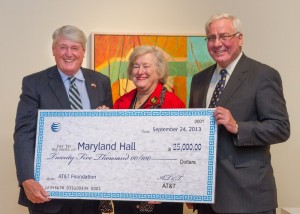 During a special event with Maryland Speaker of the House Michael Busch, Maryland Hall for the Creative Arts (MHCA) today announced a $25,000 contribution from AT&T to support the Young Artists Apprentice Program, a highly-interactive program that introduces underserved high school students to a variety of career options associated with the arts.
J. Michael Schweder, president, AT&T Mid Atlantic, joined Speaker Busch and Linnell Bowen, president and CEO of Maryland Hall, for the announcement.
The contribution will be used to underwrite a two-week, all-day 2014 summer camp that will serve up to 30 underserved 9th and 10th grade students who have an interest in or talent in the arts.  The camp will utilize Maryland Hall's cultural programs to teach students about career fields such as sound and lighting, marketing and promotion, exhibit layout and design, theatre production and arts administration.
Speaker Busch said Maryland Hall is a valuable resource for the residents of Annapolis and for the entire region.
"Maryland Hall is our region's top community arts program, offering residents of all ages access to extraordinary performing and visual arts programming," said Busch.  "AT&T's contribution will keep strong this valuable community asset and help our children learn more about careers in the arts."
"We are extremely grateful to AT&T for their generous contribution to underwrite this valuable education program," said Linnell Bowen, President of Maryland Hall.  "We see the arts impact young lives every day positively at Maryland Hall, and this camp will provide hands-on, real-world opportunities for students in our community to enhance their creativity, learn new skills and build confidence to help them succeed in high school and beyond."
"Exposure to the arts can help round out a child's education and introduce them to a wide variety of career opportunities that are possible if they stay engaged in school," said J. Michael Schweder, president, AT&T Mid Atlantic. "I applaud Speaker Busch and MHCA for their commitment to providing the region's children with access to quality arts and educational programs."
Schweder added that the contribution is part of AT&T Aspire, one of the largest corporate commitments focused on helping more students graduate from high school ready for college and careers.  Last year, AT&T announced an additional quarter-billion-dollar expansion to the program, bringing the total commitment to $350 million since the program was launched in 2008.
MHCA was founded in 1979 by a group of artistic visionaries who believed the former Annapolis High School could best be re-used as a community arts center. Today, the historic landmark building is the community's gathering place for the arts.  Through year-round classes, performances, exhibits, tours, workshops and demonstrations, people of all ages discover the transformative power of the arts.  Each day, Maryland Hall nurtures inspiration, cultivates originality and fosters the imaginations of the children, families, students and adults who come through our doors.