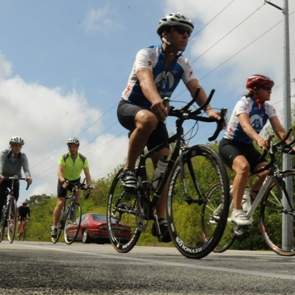 Annapolis Mayor Joshua J. Cohen and the Department of Public Works announce that the repaving of Bay Ridge Avenue will include the installation of bicycle lanes on both sides of the roadway and will start in mid-September, weather permitting.
As part of the project, and in keeping with the City's Bicycle Master Plan, the bicycle lanes will replace the existing parking lane along the section of Bay Ridge Avenue.  The 2nd phase of this project is expected to begin in late October and will involve installing Shared Use Lanes (Sharrows) along the section of Bay Ridge Avenue from Victor Parkway to Forest Drive.
The installation of the Bay Ridge Avenue bicycle lanes will create a connected bicycle route from Eastport to Quiet Waters Park and to the Annapolis Neck Peninsula.
All comments and questions should be directed to Iain Banks at Annapolis Department of Transportation, 308 Chinquapin Round Road, Annapolis, MD 21401. Residents can email  comments to  [email protected] or call 410-263-7964.
Category: LIFE IN THE AREA, Local News, NEWS, Sports