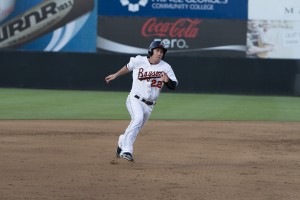 The Baysox (62-60) got a strong outing from starter Eduardo Rodriguez and came up with just enough offense to take their first series of the season against the Erie SeaWolves (64-58) with a 4-2 win Thursday.
"We had some timely hitting," said Manager Gary Kendall. "You knew two runs wasn't going to be enough against that club so then we managed to get that third run. When they came back we got that really important fourth run – [Brian] Ward had a really nice break off of second base. We got a lot out of the middle of our lineup from [Caleb] Joseph and [Wilson] Betemit."
Rodriguez had one of his best outings of the season, pitching five scoreless innings and tying a season-high with eight strikeouts while allowing four hits and walking one.
"Rodriguez was very good tonight," Kendall said. "The only unfortunate thing is that his count got a little high because I would have liked to get one more out of him. He had all three of his pitches tonight – he located his fastball and threw some good sliders and change-ups. I thought he was as good as he has been all year and that was certainly the start we needed."
Making a Major League rehab appearance with the Baysox, Orioles infielder Wilson Betemit went 2-for-3 with a run scored and run batted in as the designated hitter.
The Baysox struck first in the bottom of the fourth inning against Erie starter Matt Crouse. Center fielder Trayvon Robinson and Betemit each singled to start the inning but Robinson was caught stealing third for the first out of the inning. First baseman Caleb Joseph then hit his team-leading 19th home run of the season to give Bowie a 2-0 lead.
Bowie extended the lead in the bottom of the sixth inning. Left fielder Kyle Hudson hit a lead off single to center field, stole second base and scored on a two-out single from Joseph to make the score 3-0.
James McCann hit a home run to lead off the top of the seventh inning against Baysox reliever James McCann to make the score 3-1.
Erie continued cutting into the Baysox lead against Baysox reliever Oliver Drake in the top of the eighth inning. Drake surrendered a pair of hits and a walk to load the bases with no outs, but was able to get out of the inning with just one run being scored on a McCann single that made the score 3-2.
The Baysox added an insurance run in the bottom of the eighth inning against Erie reliever Melvin Mercedes. Catcher Brian Ward hit a one-out single to left field and moved to second base after a Hudson walk. With two outs, Betemit brought Ward home with a single to center field that gave Bowie a 4-2 lead.
Zinicola pitched two innings and allowed one run on three hits while striking out four. Drake pitched the final two innings, allowing one run on three hits while striking out two and walking two for his seventh save of the season.
Crouse took the loss for Erie, pitching seven innings and allowing three runs on six hits while striking out five and walking one.
RHP Tyler Wilson (7-1, 3.00) takes the mound for the Baysox tomorrow as the team plays the first game in a three game home series with the Richmond Flying Squirrels. He will be opposed by LHP Edwin Escobar (3-3, 3.09). The night begins with the conclusion of a suspended game at 6:05. The game is tied 5-5 in the bottom of the 10th inning.
The Baysox are home for a six game homestand through Sunday, August 18. Highlights include Daddy Daughter Date Night Friday, Aug. 16 beginning at 7:05 p.m. and Glow in the Park Night with glow stick giveaway Saturday, Aug. 17 beginning at 6:35 p.m.
Baysox Baseball – We'll Knock Your 'Sox Off. The Baysox 2013 season and 20th season of baseball at Prince George's Stadium is winding down. Parking is free at every Baysox home game and tickets are available at www.baysox.com, or by calling the Baysox box office at (301) 464-4865.