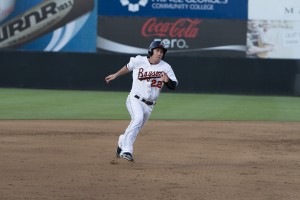 The Baysox dropped a pair of games to the Flying Squirrels Friday evening, completing a suspended game with a 6-5 loss and losing the ensuing regularly scheduled game 3-0.
Bowie's offense never got going in their seventh shutout loss of the season, going hitless in the few opportunities they had with runners on base. The Baysox also grounded into a pair of costly double plays that killed potential rallies.
"We had some opportunities, even in those middle innings if we  get a sac bunt down maybe we can pick up a run and keep it close," said Manager Gary Kendall. "I thought we swung the bats OK – we had some hard hit outs, we just couldn't get anything to fall. It was kind of a snake-bit night.
The evening started with completion of a suspended game that started in Richmond July 21. The game resumed in Bowie tied 5-5 in the bottom of the 10th inning and Richmond scored in the bottom of the 11th on a Brett Krill RBI single for the 6-5 walk-off win.
In the nine inning game, Richmond jumped out to a quick lead against Baysox starter Tyler Wilson in the top of the second inning. Mark Minicozzi, Jarrett Parker and Juan Ciriaco all singled to load the bases with one out and Jesus Navarro brought two runs home with a double to center field to give the Flying Squirrels a 2-0 lead.
Javier Herrera added another run for Richmond with a solo home run to lead off the seventh against Baysox reliever Clay Schrader that made the score 3-0.
Wilson pitched five innings and allowed two runs on seven hits while striking out four and walking one in the loss. Schrader pitched three innings in relief, allowing one run on two hits while striking out four and walking two. Reliever Marcel Prado pitched a scoreless ninth inning for the Baysox, hitting one batter.
Richmond starter Edwin Escobar picked up the win, pitching seven shutout innings and allowing seven hits while striking out five and walking one. Richmond reliever Cody Hall picked up his seventh save of the season, recording the final five outs for the Flying Squirrels.
RHP Daniel McCutchen (0-0, 0.00) takes the mound for the Baysox tomorrow as the team plays the second game in a three game home series with the Richmond Flying Squirrels. He will be opposed by RHP Jose Valdez (2-2, 4.86).
The Baysox are home for a six game homestand through Sunday, August 18. Highlights include Glow in the Park Night with glow stick giveaway Saturday, Aug. 17 beginning at 6:35 p.m. and the Manny Machado Garden Gnome Giveaway Sunday, Aug. 16 beginning at 6:05 p.m.
Baysox Baseball – We'll Knock Your 'Sox Off. The Baysox 2013 season and 20th season of baseball at Prince George's Stadium is winding down. Parking is free at every Baysox home game and tickets are available at www.baysox.com, or by calling the Baysox box office at (301) 464-4865.