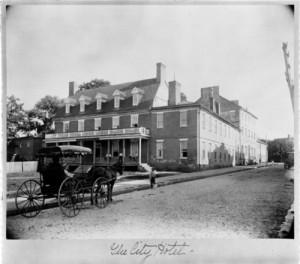 The 2013 National Continental Congress Festival will take place Sept. 11-14 at 162 Conduit Street, Annapolis. The festival's theme is the 1786 Annapolis Convention that led to the 1787 Constitutional Convention. From Sept. 11-14 in 1786, Annapolis was the site of a national discussion of the great challenges facing the post-Revolutionary War United States, challenges that ultimately could not be resolved. The state delegates at that discussion called for a second meeting to be held the following year in Philadelphia.
In 2013, Annapolis will emulate what took place in 1786 by once serving as the site of a national discussion of the great challenges facing the United States following September 11 and the War on Terrorism. The festival will also commemorate the 1786 Convention and the entire pre-Constitution period, especially the years when Annapolis served as the first peace-time capital of the United States, acting as a bridge between the Revolution and the Constitution.
Don't miss the "America's 14 Forgotten Presidents of Congress" exhibit, including original, signed documents by these men and other original documents from the Maryland State Archives' 1986 bicentennial celebration. The festival will also feature a 1786 Convention Re-enactment, short films, music, lectures, book signings and walking tours, with indoor and outdoor events for children, students and teachers. Join us in colonial attire. The festival is free and open to the public and will take place in the last building remaining from the site of the 1786 Annapolis Convention.
For a complete itinerary of events and list of sponsors, please go to: www.annapolisccs.org/festival