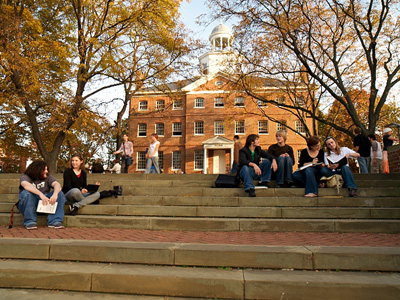 Harvard psychologist and author Irene Pepperberg will explore "Grey Parrot Number Acquisitions: Parallels with and Differences from Young Children" in her lecture at St. John's College. The lecture, which is free and open to the public, will be held in the Francis Scott Key Auditorium on Friday, August 30 at 8 p.m.
In her New York Times bestseller "Alex & Me," Pepperberg shares the true story of her relationship with Alex, an African Grey parrot who proved scientists and accepted wisdom wrong by demonstrating an ability to communicate and understand complex ideas. In her earlier book, "The Alex Studies," she describes more than 20 years of peer-reviewed studies on the cognitive and communicative abilities of Grey parrots.
Pepperberg received her bachelor's degree from MIT and her graduate degrees from Harvard University. She held academic positions at Purdue University, Northwestern University, and the University of Arizona. Pepperberg has been an adjunct associate professor in the Department of Psychology at Brandeis University since 2002. A research associate in the Department of Psychology at Harvard, she has received fellowships from the Harry Frank Guggenheim and Whitehall Foundations and numerous grants from the National Science Foundation.
For more information: www.stjohnscollege.edu
Upcoming Friday Night Lectures:
September 6 "Artistic Expression in Animals," by Linda Wiener, St. John's College tutor
September 13 "The Declaration of Independence: Is That Philosophy, or Did You Make It Up Yourself?" by David Townsend, St. John's College tutor
September 20 "Is Obscenity Obsolete?" by William Braithwaite, St. John's College tutor
September 27 "Knowing and Ground: A Reading of Hegel's 'Phenomenology of Spirit,'" by Matthew Linck, St. John's College tutor
October 11 "Can Taxes Be Fair?  Should They Be?" by William Peirce, professor, Department of Economics, Case Western University
October 18 "In the Wilderness: Moses as Founder and Lawgiver," by Ronna Burger, professor, Department of Philosophy, Tulane University
October 25 "Aristotle on Friendship and Teaching Philosophy," by Daniel P. Maher, professor, Department of Philosophy, Assumption College
November 15 "Emancipation Proclamation," by George Russell, St. John's College tutor
November 22 "Augustine," by Michael Brogan, St. John's College tutor
Category: Events, LIFE IN THE AREA, NEWS, OPINION