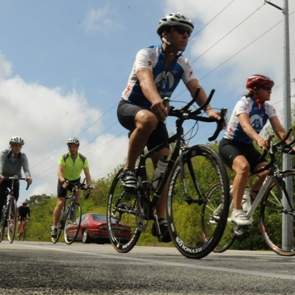 In the past two months, two bicyclists have been killed on area roads. A popular teacher at Severn School was killed after he failed to stop at a stop sign. An assistant coach at Annapolis High School was also killed when a vehicle tried to overtake her on curvy Riva Road.
Both bicyclists and motorists have an obligation to each other to ensure their mutual safety. For motorists, is it worth the extra 5 seconds to not wait for a safe time to pass?  For bicyclists, please remember that you are smaller and more difficult to see.
A local cycling couple has taken to the streets to remind motorists that there are laws to protect. The Capital Gazette's  Ben Weathers  had a very good article on this couple and the rules of the road.
Local runner and cyclist, Ann Brennan recently made a video explaining why she hates cyclists.  The tongue in cheek look at the love-hate relationship between cyclists and motorists offers some very valuable points.