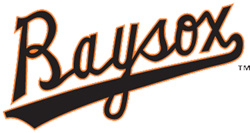 Behind seven strong innings from starter Daniel McCutchen, the Baysox (66-64) picked up a big 8-1 win over the New Britain Rock Cats (60-71) Thursday as the team battles to get into playoff position. The Baysox beat up the Rock Cats bullpen, scoring six combined runs in the seventh and eighth innings to blow the game open late.
"I thought our defense played really well behind McCutchen tonight," said Manager Gary Kendall. "[Brandon] Waring made a great play to help turn a double play and [Niuman] Romero made a great play. [Trayvon] Robinson in the outfield running over toward the line – those keys plays, if one of them goes through it might be a different ballgame."
Making his second spot start for the Baysox, McCutchen pitched seven innings and allowed one run on three hits while striking out four in his first win with Bowie.
The Baysox took an early lead in the bottom of the second inning against New Britain starter B.J. Hermsen. Second baseman Josh Horton hit a one out single to center field and moved to third base when designated hitter Lew Ford singled and reached second base on a fielding error. Shortstop Niuman Romero brought Horton home with an RBI groundout and third baseman Brandon Waring followed with a single to left field that plated Ford and gave Bowie a 2-0 lead.
Danny Santana got a run back for the Rock Cats with a solo home run to right field in the top of the sixth inning against McCutchen to make the score 2-1.
Bowie added to the lead in the bottom of the seventh inning against New Britain reliever Blake Martin. Ford hit a lead off solo home run to get the scoring started. With two outs, Martin walked the bases loaded before being replaced on the mound by Jose Gonzalez. Gonzalez struck out right fielder Buck Britton on a wild pitch that allowed a run to score from third and give the Baysox a 4-1 lead.
The Baysox extended the lead in the bottom of the eighth inning. Horton hit a lead off single to center field and moved to second base on a wild pitch. Ford drew a walk and Romero singled to left field to load the bases before catcher Brian Ward plated Horton with a sacrifice fly for the first run of the inning. Center field Kyle Hudson was then hit by a pitch to load the bases again and left fielder Trayvon Robinson followed with a bases clearing double to left field to give Bowie an 8-1 lead.
Reliever Zech Zinicola pitched the final two innings for the Baysox, allowing three hits and striking out three for his 13th save of the season.
Hermsen took the loss for New Britain, pitching six innings and allowing two runs (one earned) on six hits.
RHP Mike Wright (11-2, 3.19) takes the mound for the Baysox tomorrow plays the second game in a four game home series with the New Britain Rock Cats. He will be opposed by RHP D.J. Baxendale (5-6, 5.52).
The Baysox are home through Thursday, Aug. 29 for the final eight game home stand of the season against New Britain and Binghamton. Highlights include War of 1812 night Friday, Aug. 23 beginning at 7:05 p.m. and Kids Appreciation Night Saturday, Aug. 24 beginning at 6:35 p.m.
Baysox Baseball – We'll Knock Your 'Sox Off. The Baysox 2013 season and 20th season of baseball at Prince George's Stadium is winding down. Parking is free at every Baysox home game and tickets are available at www.baysox.com, or by calling the Baysox box office at (301) 464-4865.
Category: LIFE IN THE AREA, OPINION