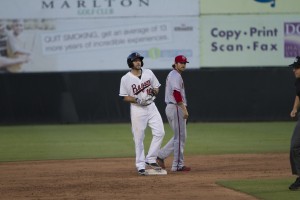 The Baysox came up just short in a 3-2 loss to the Binghamton Mets Tuesday night that threatened the team's playoffs chances. With the loss, the Baysox fall to four games out of second place with seven games to play.
Despite 10 hits, the Baysox managed to score just two runs, batting 1-for-8 with runners in scoring position and leaving seven runners on base while grounding into a pair of costly double plays.
"It's always nice to put together some good at-bats," said designated hitter Buck Britton, who had a three hit night for the Baysox. "I was trying to help get something going for us tonight. It was tough only putting up two runs."
Baysox starter Tyler Wilson pitched five and one-third innings and allowed three runs on six hits while striking out four and walking two in the loss.
The Baysox struck first in the bottom of the first inning against Binghamton starter Logan Verrett. Kyle Hudson hit a lead off single to center field and moved to second base on a wild pitch. Buck Britton singled to left field to move Hudson to third base where he scored on a second wild pitch to give the Baysox a 1-0 lead.
Binghamton came back to take the lead in the top of the second inning against Wilson. Cory Vaughn got the scoring started with a lead off home run to left field. Travis Taijeron followed with a single to right field and moved to third base on a Blake Forsythe double to left field. Richard Lucas brought Taijeron home with a sacrifice fly and a Wilfredo Tovar double to left field plated Forsythe to give the B-Mets a 3-1 lead.
Left fielder Garabez Rosa got a run back for the Baysox with a solo home run against Binghamton reliever Chasen Bradford in the bottom of the seventh inning to make the score 3-2.
Left-handed reliever Chris Petrini pitched one and two-thirds scoreless innings for the Baysox, allowing four hits while striking out one. Reliever Matt Bischoff pitched the final two scoreless innings for the Baysox, allowing one hit and striking out three.
Verrett took the win for Binghamton, pitching five innings and allowing one run on six hits while striking out one and walking one. Binghamton closer Jeff Walters earned his 37th save of the season, pitching a perfect ninth inning.
RHP Mike Wright (11-2, 3.18) takes the mound for the Baysox tomorrow as the team plays the third game in a four game home series against the Binghamton Mets. He will be opposed by LHP Mark Cohoon (9-4, 4.07).
The Baysox are home through Thursday, Aug. 29 for the final eight game home stand of the season against New Britain and Binghamton. Highlights include Baysox for a Buck Night Wednesday Aug. 28 beginning at 7:05 p.m. and the regular season home finale Thursday beginning at 7:05 p.m.
Baysox Baseball – We'll Knock Your 'Sox Off. The Baysox 2013 season and 20th season of baseball at Prince George's Stadium is winding down. Parking is free at every Baysox home game and tickets are available at www.baysox.com, or by calling the Baysox box office at (301) 464-4865.
Category: LIFE IN THE AREA, OPINION, Sports