Early this morning, the Emergency Operations Center deep below the Annapolis Police station was bussing with activity.  A hurricane (ala Sandy) had come ashore just north of Annapolis and created havoc throughout the city.
There were more than 6,000 without electricity with many poles and wires down. Potable water was scarce and there was flooding with which to contend. Additionally, many structures were damaged by the 80 MPH winds that whipped the area.
Once the immediate, life-safety needs were assessed and under control, the City sprung into action to bring back the area to normalcy as soon as possible. However, basic emergency services could not be ignored–there were still medical emergencies, fires, and accidents.
Pip Moyer Recreation Center
The Pip Moyer Recreation Center was opened as a shelter. People needing food and shelter were provided with meals, a place to stay, a cot to sleep on, and some games to entertain themselves. City staff, assisted by the State DSS and the Red Cross managed the input and output. Each refugee was logged in and key information was taken (address, age, relative contact information, pets, number of family members, phone contacts, medical needs, etc.). The refugees were also free to leave once signing out, thereby maintaining a running tab of who was in and who was out.
Annapolis Water Treatment Plant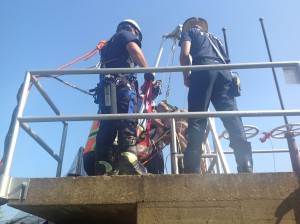 In the middle of the recovery efforts, an emergency call was received at the Annapolis Water Treatment Plant on Defense Highway. At 822am, the Fire Department learned that a 56 year old male had become unresponsive and trapped in a 22 foot deep manhole. At 939am, the patient was removed from the manhole. According to Plant Superintendent James FitzGerald, an 18 year veteran, the employee was sent down to perform a repair on a "mud pit" valve. Normally these valves are operated above ground, but due to the age of the plant, it sometimes becomes necessary to perform the work in the pit. FitzGerald said that the employee did have a safety line and a partner. At one point, the man in the pit stopped talking and the safety line snapped. "That's when we immediately called 911," said FitzGerald.  The patient was transported to Anne Arundel Medical Center and is expected to make a full recovery.
Navy-Marine Corps Memorial Stadium
For residents who are able to get around and do not need shelter, a Point of Distribution (POD) was established at the stadium. Vehicles entered through Gate 5 on Taylor Avenue, checked-in, and placed their order. When their turn came, basic food and drink was delivered to their vehicle and they exited on Farragut Road.  The Salvation Army provided the sandwiches (ham, turkey, tuna, chicken, roast beef, and a vegetarian option) and several other organizations provided soft drinks, water, fruit, and snacks for young children.
All tolled, there were 48 people who volunteered to be a part of this exercise and play the part of refugee, or family in need of food at the POD.  The Annapolis Office of Emergency Preparedness & Risk Management (EPARM) will review all aspects of this six hour exercise and make recommendations for improvement and cite areas of excellence.  While no city can be prepared for every eventuality, constant training is a way to make them better prepared.
Last Year
Last year's scenario was of a tornado. Pip Moyer was also used as a shelter, but the drill involved many victims complete with fake blood and specific scenarios to be executed to test the first responders. You can read about last year's exercise here.