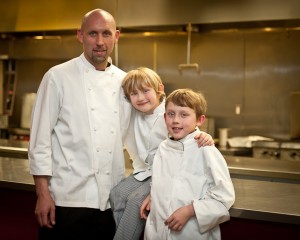 A Gambrills eatery is making the most of the impending birth of England's newest prince/princess by throwing a "royal baby shower" to benefit the Crofton Food Pantry's baby store supplies.
Chef Zachary Pope, owner of Roundz Gourmet Market & Catering, said that the growing media focus and popular interest in the birth of Prince William and Kate Middleton's first child (due July 13), spurred the idea of acting locally.
"We thought it would be fun to take part in the excitement surrounding the royal baby by celebrating our local babies.  And there is no better way to do that than by helping families in need provide for their little ones."
Roundz will be collecting diapers, baby wipes, formula and baby food Thursday through Saturday, 11 a.m. to 7 p.m. until July 20. All items donated will go to the Crofton Food Pantry, run by volunteers from seven area churches belonging to the Crofton Christian Caring Council.
Roundz is also running a Royal Baby Pool.  Participants must fill out an entry form at Roundz Gourmet Market during business hours guessing the baby's birth date and gender.  The winner will receive a gift basket filled with locally produced food items.
Roundz Gourmet Market and Catering is at 2299 Johns Hopkins Road in Gambrills. Roundz offers walk-in dining, carry out, cooking classes, specialty dinners, full service catering and more. For more information, call 443.292.4631 or email [email protected]