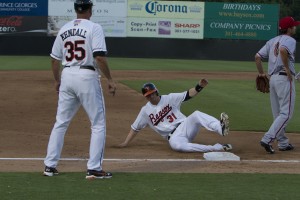 The Baysox (52-50) were aided by three Akron (51-52) errors, scoring four unearned runs in the first three innings on the way to an 8-2 win over the Aeros Tuesday evening.
Bowie's offense was on fire early in the game, recording all 10 hits and scoring all eight runs against Akron starter Paolo Espino. Lead off hitter Kyle Hudson recorded hits in each of his first three at-bats, scoring two runs and driving in two more to help the team off to the fast start.
"Getting an early lead was big for us because we are going through a slide right now trying to score runs so it was big for our confidence to get a comfortable lead," Hudson said. "I have been feeling really comfortable in the box. I feel like my timing is finally back after being out for a few weeks. It was good to get those hits in my first couple at-bats and coming through with a couple RBIs on the third at-bat boosted my confidence a little bit."
Baysox left-handed starter Eduardo Rodriguez had one of his best starts of the season, throwing six innings and allowing two runs on three hits while walking three and striking out two in his first Double-A win.
"I thought [Rodriguez] got better as the game went on," said Manager Gary Kendall. "His breaking ball improved and I really liked how he was throwing his change-up. He made some really good pitches to a good line-up."
The Baysox again jumped out to an early lead in the bottom of the first against Espino. Hudson hit a lead off single to right field and moved to third base after center fielder Trayvon Robinson reached second base on a force attempt and missed catch error by the Akron shortstop. With two outs, first baseman Christian Walker reached second on an error by the center fielder that allowed two unearned runs to score and designated hitter Seth Loman followed with a single to right field that plated Walker and gave Bowie a 3-0 lead.
Bowie added to the lead in the bottom of the third inning. Hudson hit a lead off single to right field and moved to second base when Robinson reached on an error by the Akron left fielder. Both runners advanced on a Romero sacrifice bunt and catcher Caleb Joseph brought Hudson home with a sacrifice fly to give the Baysox a 4-0 lead.
Akron cut into the Baysox lead in the top of the fourth inning against Rodriguez. Jesus Aguilar drew a lead off walk and moved to second base when Carlos Moncrief singled to left field. With one out, Matt Lawson singled to right field to plate Aguilar and move Moncrief to third base where he scored on a sacrifice fly by Kyle Bellows to make the score 4-2.
The Baysox got the two runs right back in the bottom of the fourth inning. Loman hit a lead off single to center field, second baseman Josh Horton hit a one-out single to center field and right fielder Chris Pettit walked to load the bases. Hudson then brought two runs home with a single to center field to give Bowie a 6-2 lead.
Bowie added to the lead in the bottom of the fifth inning. Joseph hit a lead off single to center field and Walker followed with a double to left field that moved Joseph to third base. Loman plated Joseph with a sacrifice fly and third baseman Brandon Waring brought Walker home with a double to left field to give the Baysox an 8-2 lead. Akron reliever Enosil Tejeda recorded the final two outs for Akron.
Reliever Zech Zinicola pitched two scoreless innings, not allowing a hit while striking out two and walking one. Closer Marcel Prado pitched a scoreless ninth inning, allowing one hit and striking out the side.
Espino took the loss for Akron, pitching four and one-third innings and allowing eight runs (four earned) on 10 hits while striking out two and walking two.
RHP Tyler Wilson (5-1, 2.23) takes the mound for the Baysox tomorrow as the team plays the final game in a three game series with the Akron Aeros. He will be opposed by RHP Toru Murata (4-5, 3.96)
The Baysox are home through Wednesday, July 24 for a three game homestand that concludes with a day game beginning at 11:05 a.m. Wednesday. The team then departs to Erie for a four-game series before returning home Tuesday, July 30.
Baysox Baseball – We'll Knock Your 'Sox Off. The Baysox 2013 season and 20th season of baseball at Prince George's Stadium is underway. Parking is free at every Baysox home game and tickets are available at www.baysox.com, or by calling the Baysox box office at (301) 464-4865.