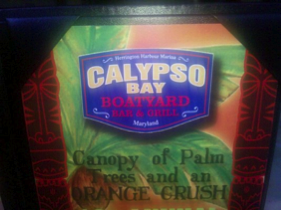 Create your own legacy! Calypso Bay Boatyard Bar & Grill is changing its name and the owners are considering all suggestions. Anyone who sends in a suggestion will be entered into a raffle to win an overnight stay at Herrington Harbour South (see below for all that comes with it.).
Here's some history to get creative juices flowing …
There has been a restaurant at the Calypso Bay's location since at least the 1960s.
Previous names included Bobby D's, Skipjack and Duke's Tavern.
Tracy's Landing, where the restaurant is located, was an important tobacco port on the Bay.
Tracy's Creek used to be called Herring Creek, back in the 1600s.
The new name will mark a transformation. The new identity will include …
Farm-to-table and water-to-table concept that will share the bounty of our Chesapeake Bay.
The waterfront tiki bar will be the main attraction and will be complemented by dining in the sand and a new fire pit, when the weather cools.
New menu and outstanding service.
Continuation of the best Orange Crushes on the Bay.
A year round and family-oriented restaurant.
Email suggestions to [email protected] by July 31, 2013. The new name will be announced by August 19.
Raffle Prize — One night stay in a "hot tub" room, pool access, lunch for two at Honey's, and dinner for two at the new Calypso Bay (value of $500). Expiration Date: December 30, 2014.
Calypso Bay Restaurant is located at 421 Deale Rd., Tracys Landing, Md. 20779, at Herrington Harbour North Marina.