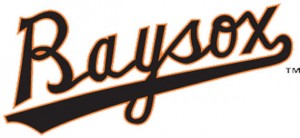 The Baysox (43-45) lost five of their final seven games against the Harrisburg Senators (50-41) heading into the All-Star break, including a 3-2 loss Monday. The team was swept in a pair of doubleheaders and struggled to get things going Monday after sitting through a long rain delay in the top of the fourth inning.
The Baysox took an early lead in the top of the fourth inning against Harrisburg starter Nate Karns. Shortstop Niuman Romero drew a lead off walk and catcher Caleb Joseph was hit by a pitch. Both runners advanced on a wild pitch and the game was then suspended because of rain. After the delay, Matt Grace came in to pitch for the Senators and walked designated hitter Ronny Paulino to load the bases. Third baseman Brandon Waring then plated Romero with a sacrifice fly to give Bowie a 1-0 lead.
Harrisburg came right back to retake the lead in the bottom half of the inning against Baysox reliever Chris Petrini. Justin Bloxom drew a lead off walk and Carlos Rivero followed with a single to right field. Jason Martinson then hit a sacrifice bunt but reached safely on a Waring throwing error that also allowed Bloxom to score and tie the game. Jimmy Van Ostrand grounded into a double play that allowed Rivero to score and give the Senators a 2-1 lead.
The Senators added to their lead in the bottom of the fifth inning. With one out, Steven Souza was hit by a pitch and stole second base before scoring on a two-out single to center field by Bloxom that made the score 3-1.
The Baysox got a run back in the top of the seventh inning. Waring hit a one out double to left field and scored when right fielder Garabez Rosa singled to right field to make the score 3-2.
Baysox started Tyler Wilson pitched three innings, allowing two hits while walking two and striking out one in a no decision that was cut short by the rain delay. Petrini pitched three innings and allowed three runs on six hits while striking out two and walking two in the loss. Reliever Zech Zinicola pitched two scoreless innings, striking out two batters and walking one.
Grace earned the win for Harrisburg, pitching three and two-thirds innings and allowing one run on two hits while striking out one batter.
The Eastern League All-Star break begins Tuesday. Several Baysox players, including RHP Mike Wright, SS Niuman Romero and C Caleb Joseph will be participating in the game in New Britain, Conn. Wednesday. The Baysox return home for a four day, five game homestand Thursday, July 11.
Baysox Baseball – We'll Knock Your 'Sox Off. The Baysox 2013 season and 20th season of baseball at Prince George's Stadium is underway. Parking is free at every Baysox home game and tickets are available at www.baysox.com, or by calling the Baysox box office at (301) 464-4865.