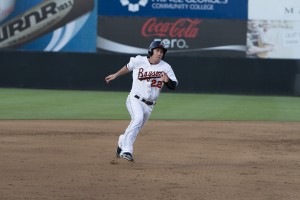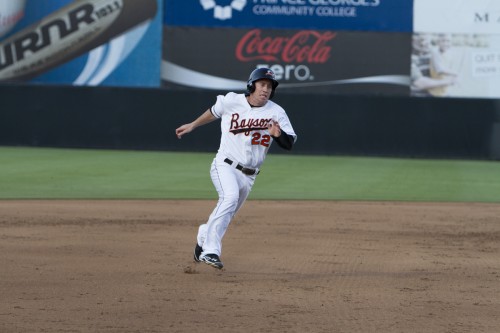 Aaron Baker broke a long home run drought with a pair of three-run blasts to help boost the Baysox (44-45) past the Richmond Flying Squirrels (42-48) 10-1 Thursday night.
"The bats started to come alive for us," said Manager Gary Kendall. "That was something that evaded us in Harrisburg. I thought we went there swinging the bats pretty good, but then after the first game we couldn't buy a run. It was good to see the bats come alive and Baker had one heck of a night."
The Baysox offense started rolling late in the game after being shutout for the first four innings, setting a new season-high with 10 walks in addition to five extra-base hits. Baker brought most of the power, driving in six runs on his two three-run homers that ended a 46 game homer-less streak.
"It was well overdo, that's for sure," Baker said. "The first one was a big situation with runners in scoring position and a tie game. I was just trying to make good solid contact and put the ball in play and drive in a run. The home run was just a bonus."
Baysox starter Devin Jones pitched four innings and allowed one run on two hits while striking out four and walking one in the no decision. Matt Bischoff picked up the win, pitching three scoreless innings in relief, allowing two hits and striking out one. Reliever Zech Zinicola finished things off with two scoreless innings, allowing one hit and striking out four.
Richmond jumped out to the lead in the top of the first inning against Jones. Joe Panik drew a one-out walk, moved to second base on a wild pitch and scored on a two-out single from Adam Duvall to make the score 1-0.
The Baysox tied the game in the bottom of the fifth inning against Richmond starter Chris Gloor. Right fielder Chris Pettit hit a lead off double to center field and moved to third base on a flyout by center fielder Trayvon Robinson. Left fielder Kyle Hudson brought Pettit home with a sacrifice fly to tie the score 1-1.
Bowie added to the lead in the bottom of the sixth inning. Catcher Ronny Paulino hit a lead off single to left field and third baseman Brandon Waring followed with a double to center field. Baker then brought everyone home with a home run over the right field fence to give the Baysox a 4-1 lead. Drew Bowlin replaced Gloor on the mound to finish the inning.
The Baysox extended the lead in the bottom of the seventh inning. Paulino hit a lead off single but was put out at second when Waring reached on a force out. Baker drew a walk and with two outs, shortstop Josh Horton doubled to right field to bring home both runners and make the score 6-1.
Bowie exploded for four more runs in the bottom of the eighth inning against reliever Scott Shuman. Shuman threw 12 consecutive balls to walk the bases loaded before being replaced on the mound by Tom Vessella. Hudson scored from third after a wild pitch and with one out, Baker hit his second three-run homer of the night to give the Baysox a 10-1 lead.
Gloor took the loss for Richmond, pitching five innings and allowing four runs on five hits while striking out five and walking four.
RHP Tim Bascom takes the mound for the Baysox in Game 1 of a doubleheader against the Richmond Flying Squirrels Friday. He will be opposed by RHP Craig Westcott. In game 2, LHP Chris Petrini (3-4, 3.52) will pitch for the Baysox against LHP Ryan Bradley (0-4, 7.02).
The Baysox are home through Sunday, July 14 for a four game homestand against Richmond. Highlights include Date Night at the Diamond Friday, July 12 during 6:05 game and Women in Sports Night Saturday, July 13 during 6:35 game.
Baysox Baseball – We'll Knock Your 'Sox Off. The Baysox 2013 season and 20th season of baseball at Prince George's Stadium is underway. Parking is free at every Baysox home game and tickets are available at www.baysox.com, or by calling the Baysox box office at (301) 464-4865.
Category: LIFE IN THE AREA, OPINION