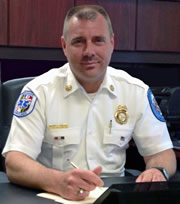 Last week, Anne Arundel County Executive Laura Neuman announced the appointment of Interim Chief Michael E. Cox, Jr., to the position of Fire Chief of the Anne Arundel County Fire Department. Cox succeeds now-retired Chief Robert Ray, who held the position since 2008 and was a veteran of the department for more than 30 years.  Chief Cox will be officially sworn in during a ceremony tomorrow morning.
"Chief Cox brings a wealth of experience and passion for the job to this position," said County Executive Neuman. "He has a firm grasp of the issues, has demonstrated leadership and knows what it takes to turn our fire program around. In the short time Chief Cox has served in an acting capacity, he has implemented a number of new initiatives to address some of the critical issues currently facing the Department including the enhancement of responder and citizen safety, substandard Insurance Service Office Ratings in some areas of the County, improved call- processing work flows and improved stakeholder engagement within the Department and community. Without a doubt, he is the best man for the job."
Chief Cox is a lifelong firefighter, having begun his career in the fire service at age 16 as a volunteer at the Woodland Beach VFD. For the past 25 years, he has worked within the Anne Arundel County Fire Department in nearly every bureau and division. He holds an Associate's Degree in the Emergency Medical Services field from Anne Arundel Community College; a Bachelor's Degree in Fire Science, from the University of Maryland; and a Master's Degree in Executive Fire Service Leadership from Grand Canyon University. Chief Cox also is a graduate of the United States Fire Administration's Executive Fire Officer Program, holding the distinction of Chief Fire Officer from the Center for Public Safety Excellence. Chief Cox also holds National and State Certifications as a Fire Officer 4; Emergency Medical Technician Paramedic; Emergency Services Instructor; and a Type 3 and 4 Incident Management Team Member.
Chief Cox has lived the last 33 years in Anne Arundel County. He and his wife, Deborah, currently reside in Edgewater with their two children, Megan and Michael.