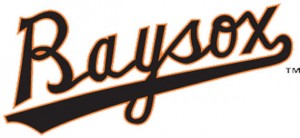 The Bowie Baysox will be in the center of an intergalactic conflict when the team hosts Star Wars Night at Prince George's Stadium Saturday, June 22, as the Baysox play the Altoona Curve beginning at 6:35 p.m.  The event features characters in movie-quality replica costumes, lightsaber battles, postgame performances, and a fireworks extravaganza after the Jedi Knights and Sith Lords have a final showdown.
The Baysox have long supported the rebel alliance, hosting Jedi Knights, rebel pilots and other members of the Terrapin Base of the Rebel Legion. The conflict begins when Darth Vader, storm troopers and other members of the Old Line Garrison and Garrison Tyranus of the 501st Legion invade the ballpark to quell the resistance.  The battle will be decided on the field as Jedi Knights and Sith Lords from Saber Guild and Jedi Saber Combat hold lightsaber battles between innings and before the fireworks.
New this season, fans can take part in the Death Star putt-putt game outside the stadium and on the main stadium concourse. There will also be a memorabilia display from the Star Wars Museum for fans to view.
Promotions Manager Chris Rogers is excited for the event. "Star Wars Saturday is one of my favorite events of the year because you truly feel like you are inside a Star Wars movie with Darth Vader standing next to you and Jedi Knights strolling by," Rogers said. "The movie quality costumes worn by the actors are incredible and this night is an amazing experience whether you are a life-long Star Wars fan or just coming to the ballpark for the first time."
Since its release on May 25, 1977, "Star Wars" has been an integral part of American pop culture, spanning six films, an animated series, several video games and numerous works of fiction.
Baysox Baseball – We'll Knock Your 'Sox Off. The Baysox 2013 season and 20th season of baseball at Prince George's Stadium is underway. Parking is free at every Baysox home game and tickets are available at www.baysox.com, or by calling the Baysox box office at (301) 464-4865.