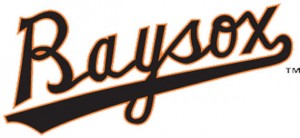 Henry Urrutia doubled, homered and drove in three runs in the Baysox (32-36) 5-3 win over the Harrisburg Senators (39-33) Thursday. The win ended a four game losing streak for the Baysox and helped the team avoid a three game sweep at the hands of the Senators.
After managing just seven hits the past two nights combined, the Baysox offense was able to battle for eight hits and four walks Thursday and converted those base runners into just enough runs to get the job done.
"We were facing a guy that has some service time and they have good pitching overall and we managed to put some good swings on [Karns]," said Manager Gary Kendall. "We didn't really bombard him with runs but we had some swings and we made him pitch so I was really pleased. Urrutia's two-run homer was huge and Reimold's sac fly was even huger to give us a three-run lead. It was very similar to last night but this time we attacked the ball a little better and got some better results."
Baysox starter Tyler Wilson picked up the win, pitching six innings and allowing two runs on two hits while striking out three and walking one.
"[Catcher] Brian Ward called a good game and mixed pitches well – we connected," Wilson said. "I threw my fastball a lot, working around the zone but also threw both of my breaking pitches well. I was just trying to challenge hitters and work ahead in the count."
Making his third Major League rehab appearance with the Baysox Thursday, designated hitter Nolan Reimold went 0-for-5 with an RBI on a sacrifice fly in the sixth inning.
The Senators jumped out to the early lead in the top of the first inning against Wilson. Brian Goodwin hit a lead off single to second base and Steven Souza followed with a single to left field that moved Goodwin to second base. Justin Bloxom reached on a force out that eliminated Goodwin at third base and the runners on first and second then advanced on a double steal. Jimmy Van Ostrand hit an RBI groundout to second base to give Harrisburg a 1-0 lead.
The Baysox tied the game 1-1 in the bottom half of the inning against Harrisburg starter Nate Karns. Third baseman Ty Kelly hit a lead off single to center field and with two outs, left fielder Caleb Joseph reached on a fielding error by the third baseman. Right fielder Henry Urrutia brought Kelly home with a double to left field.
Bowie took the lead in the bottom of the fourth inning. First baseman Seth Loman hit a lead off single to left field and moved to second base when center fielder Steven Bumbry drew a one out walk. Catcher Brian Ward then doubled to center field to plate Loman and give the Baysox a 2-1 lead.
The Baysox extended their lead in the bottom of the fifth inning against reliever Matt Swynenberg. Joseph hit a lead off double to left field and Urrutia followed with a home run to left-center field to give Bowie a 4-1 lead.
Souza closed the gap to 4-2 with a solo home run to center field to lead off the top of the sixth inning.
Bowie got the run right back in the bottom of the sixth inning against Harrisburg reliever Ryan Perry. Ward hit a lead off single to left field Kelly followed with a walk. Shortstop Niuman Romero moved both runners over with a sacrifice bunt and Reimold plated Ward with a sacrifice fly to make the score 5-2.
Harrisburg cut into the lead again in the top of the eighth inning against reliever Jason Gurka. Jerad Head hit a lead off double to left field and scored on a one out single to center field from Rick Hague to make the score 5-3.
Gurka pitched one and one-third innings, allowing one run on four hits while striking out two and walking one. Reliever Marcel Prado picked up his third save of the season, pitching the final one and two-thirds innings and allowing one hit while striking out one and walking one.
Karns took the loss for Harrisburg, pitching four innings and allowing two runs (one earned) on five hits while striking out five and walking two.
LHP Jake Pettit (3-3, 5.20) takes the mound for the Baysox tomorrow as the team begins a three game home series with the Altoona Curve. He will be opposed by RHP Nick Kingham (1-0, 0.00).
The Baysox are home through Sunday, June 23 for a six game home stand. Highlights include Star Wars Night Saturday, June 22 during the 6:35 p.m. game and the final Bud Light 1K Beer Run Sunday, June 23 before the 2:05 p.m. game.
Baysox Baseball – We'll Knock Your 'Sox Off. The Baysox 2013 season and 20th season of baseball at Prince George's Stadium is underway. Parking is free at every Baysox home game and tickets are available at www.baysox.com, or by calling the Baysox box office at (301) 464-4865.