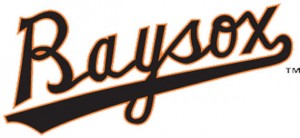 Starter Eddie Gamboa carried a no-hitter into the eighth inning Sunday afternoon as the Baysox (35-36) beat the Altoona Curve (33-40) 1-0 to complete a three-game sweep. The three-game sweep was the first for the Baysox since they swept the New Britain Rock Cats at home May 14-16.
"[The knuckleball] was great," said Gamboa, who threw the knuckleball about 60 percent of the time. "It feels like it gets better and better everyday. Sometimes you fall back, but you are always trying something new with it. I have only been throwing it since March so it's very frustrating, but at times it can pay off when things go well. The defense behind me made great plays and I was hoping for the best."
Gamboa pitched seven and one-third shutout innings, allowing one hit while walking three and striking out seven in the win.
"He was terrific," said Manager Gary Kendall. "He had a lot of composure, mixed in his knuckleball and he had everything working for him today. I really thought he had a good advantage because this was the first time Altoona has come here and faced a knuckleballer. The way he was able to cut the ball and mix things in kept them out of gear a little bit."
The Baysox broke a scoreless tie in the bottom of the sixth inning against Altoona starter David Bromberg. Second baseman Josh Horton hit a two-out double to center field and reliever Kenn Kasparek then replaced Bromberg on the mound. He surrendered a single to left field by third baseman Ty Kelly that brought Horton home and gave Bowie a 1-0 lead.
Zech Zinicola, who replaced Gamboa on the mound in the eighth inning, pitched two-thirds of an inning, striking out one batter. Reliever Marcel Prado earned the save for the second straight game, pitching a perfect ninth inning.
Bromberg took the loss for Altoona, pitching five and two-thirds innings and allowing one run on five hits while striking out seven and walking six.
RHP Mike Wright (6-1, 3.84) takes the mound for the Baysox tomorrow as the team plays the first game in a four game road series with the Richmond Flying Squirrels. He will be opposed by RHP Taylor Rogers (4-4, 6.65).
The Baysox depart for a three day, four game road trip to Richmond Tuesday before returning for home for a seven game home stand Thursday, June 27.
Baysox Baseball – We'll Knock Your 'Sox Off. The Baysox 2013 season and 20th season of baseball at Prince George's Stadium is underway. Parking is free at every Baysox home game and tickets are available at www.baysox.com, or by calling the Baysox box office at (301) 464-4865.