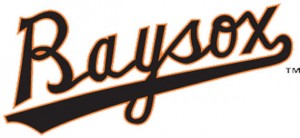 The Baysox (37-39) fell into a deep hole early into the game, trailing by six runs after two innings, and never caught up as they fell to the Harrisburg Senators (44-35) 11-6 Thursday.
Despite falling trailing 6-0 after two innings and 8-2 after three innings, the Baysox had multiple opportunities to stay in the game. The Baysox offense recorded 11 hits to go along with six walks but left the bases loaded in the second, third and fourth innings without managing to score a run with the bases loaded.
"I kind of felt like even when it was 8-2 we had a chance," said Manager Gary Kendall. "Two runs here and two runs there and we can at least make them run some guys from there bullpen in a four game series. The big hit just eluded us. We couldn't deliver that two out hit when we had bases loaded a couple times."
Harrisburg jumped out to an early lead in the top of the first inning against Baysox starter Devin Jones. Bryce Harper drew a one out walk and scored on a two out double to center field from Justin Bloxom to make the score 1-0.
The Senators really blew the game open in the top of the second inning. After back-to-back one out singles, Harper brought both runners home with a triple to left-center field. Bloxom drew a two out walk and both runners scored on a Jerad Head double to right field. Jason Martinson followed with a ground-rule double to left field to bring home the fifth run of the inning and make the score 6-0. Reliever Matt Bischoff replaced Jones on the mound and recorded the final out of the inning.
The Baysox got two runs back in the bottom of the second inning against Harrisburg starter Rob Gilliam. Catcher Luis Martinez hit a lead off single to center field but was put out at second base when right fielder Garabez Rosa reached on a fielder's choice. Center fielder Kyle Hudson drew a two out walk and second baseman Josh Horton followed with a ground rule double to right-center that scored Rosa. Hudson scored from third base on a Ty Kelly single to left field to make the score 6-2.
Harrisburg extended the lead again in the top of the third inning. Rick Hague hit a one out single to right field and Brian Goodwin followed with a walk. Harper singled to right field to load the bases and Bloxom brought home a run with an infield single to second base. Head then reached on a single to plate the second run of the inning and make the score 8-2.
The Senators extended the lead again in the top of the seventh inning against reliever Clay Schrader. Hague drew a lead off walk but was put out at second base when Goodwin reached on a fielder's choice. With two outs, Souza drew a walk and Bloxom followed with a double to center field that plated Goodwin. Head then singled to score another run and Martinson kept it going with another single to plate the third run and give Harrisburg an 11-2 lead.
The Baysox made a run in the top of the eighth inning against reliever Pat McCoy. After three straight singles to load the bases, Kelly drew a walk to bring in a run. Neil Holland then replaced McCoy on the mound and walked shortstop Niuman Romero to bring in another run. Left fielder Nolan Reimold followed with a single to bring home another run and designated hitter Aaron Baker brought home the fourth run of the inning on a sac fly to make the score 11-6.
Jones took the loss for Bowie, pitching one and two-thirds innings and allowing six runs on seven hits while striking out two and walking three. Bischoff pitched four and one-third innings and allowed two runs on four hits while striking out two and walking three.
"I was very pleased with Bischoff tonight," Kendall said. "He really picked us up. For him to go out there and go the amount of pitches and the amount of innings he went, plus keeping us in the game was great."
Schrader pitched two innings and allowed three runs on three hits and two walks while striking out two. Reliever Tim Bascom pitched the ninth inning and walked one batter and struck out another.
Reliever Matt Swynenberg earned the win for Harrisburg, pitching one and one-third scoreless innings in relief, allowing just one hit.
RHP Eddie Gamboa (3-5, 3.77) takes the mound for the Baysox tomorrow as the team plays the second game in a four game home series against the Harrisburg Senators. He will be opposed by RHP Blake Treinen (6-6, 3.44).
The Baysox are home through Wednesday, July 3 for a seven game homestand against the Harrisburg Senators and Akron Aeros. Highlights include Orange and 'Black Friday' Night June 28 beginning at 7:05 p.m. and Extreme Noise Night with cowbell giveaway Saturday, June 29 at 6:35 p.m.
Baysox Baseball – We'll Knock Your 'Sox Off. The Baysox 2013 season and 20th season of baseball at Prince George's Stadium is underway. Parking is free at every Baysox home game and tickets are available at www.baysox.com, or by calling the Baysox box office at (301) 464-4865.