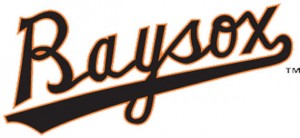 The Baysox (33-36) offense kept rolling Friday, scoring four runs in the seventh inning to break a tie ball game on the way to a 7-5 win over the Altoona Curve (33-38).
"I was really pleased with how we came back with that big inning," said Manager Gary Kendall. "We had a lot of two strike hitting, some two-out RBI and it all started out with an infield hit. I didn't feel bad about it either because they really didn't hit a ball hard all night against [Jake] Pettit. I was really pleased with our offense there because it looked like [Nick Kingham] settled in after we got a few runs on him early."
Baysox starter Jake Pettit threw six and two-thirds innings, allowing three runs on seven hits while striking out six and walking one in the no decision.
"I located almost all of my pitches," Pettit said. "My change-up was really good tonight; it felt really good back to where it was last year. I worked on an inside fastball and my slider was on point tonight. It was really nice to get that long outing in there, I just have to throw strikes and I felt like I did that tonight."
Making a Major League rehab appearance with the Baysox Friday, left fielder Nolan Reimold went 1-for-4 with a two-out, two-RBI single in the seventh inning. It was his first hit in four rehab games with the Baysox.
The Baysox took the early lead in the bottom of the third inning against Altoona starter Nick Kingham. Second baseman Josh Horton hit a one out single to right field and third baseman Ty Kelly followed with a ground rule double to right field. Shortstop Niuman Romero brought Horton home on a groundout to second base to give Bowie the 1-0 lead.
Bowie added to the lead in the bottom of the fourth inning. Right fielder Henry Urrutia hit a lead off single to right field and catcher Caleb Joseph followed with a home run down to left field line to give the Baysox a 3-0 lead.
Altoona cut the Baysox lead in the top of the fifth inning against Pettit. Andy Vasquez reached on a bunt single and Carlos Paulino followed with a walk. Both runners moved over on a sacrifice bunt from Kelson Brown and Vasquez scored on a Gift Ngoepe groundout. Adalberto Santos followed with a single to left field to plate Paulino and make the score 3-2.
The Curve came back to tie the game 3-3 in the top of the seventh inning. Paulino hit a one out single to center field and moved to second base on a groundout by Brown before scoring on a single to left field by Ngoepe.
The Baysox used a big seventh inning to retake the lead. Right fielder Garabez Rosa hit a one out single to right field and center fielder Chris Pettit followed with a ground rule double to right-center field. Reliever Nate Baker then replaced Kingham on the mound and quickly recorded the second out of the inning. Kelly came through with an infield single to shortstop that plated one run and Romero followed with an infield single to second base that scored a second run. Reimold plated the final pair of two out runs on a single to center field to give the Baysox a 7-3 lead.
Altoona got two runs back in the top of the eighth inning. Reliever Clay Schrader walked the bases loaded and was then replaced on the mound by Zech Zinicola. Jarek Cunningham plated one run with a sacrifice fly and Paulino hit a two out RBI single to right field to make the score 7-5.
Left-handed reliever Chris Petrini earned the win for the Baysox, recording the final out of the seventh inning. Schrader walked each of the three batters he faced in the eighth inning and allowed two runs without recording an out. Zinicola finished the eighth inning, allowing one hit and striking out one batter. Reliever Oliver Drake picked up his first save of the season after pitching a scoreless ninth inning.
Kingham took the loss for Altoona, pitching six and one-third innings and allowing five runs on seven hits while striking out six and walking one.
RHP Devin Jones (3-2, 4.84) takes the mound for the Baysox tomorrow as the team plays the second game in a three game home series with the Altoona Curve. He will be opposed by RHP Jameson Taillon (3-5, 2.89).
The Baysox are home through Sunday, June 23 for a six game home stand. Highlights include Star Wars Night Saturday, June 22 during the 6:35 p.m. game and the final Bud Light 1K Beer Run Sunday, June 23 before the 2:05 p.m. game.
Baysox Baseball – We'll Knock Your 'Sox Off. The Baysox 2013 season and 20th season of baseball at Prince George's Stadium is underway. Parking is free at every Baysox home game and tickets are available at www.baysox.com, or by calling the Baysox box office at (301) 464-4865.