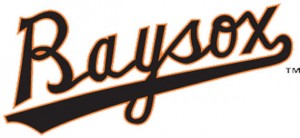 A night after being held to three hits and one run, the Baysox offense continued to struggle, managing only four hits and again scoring only one run in a 3-1 loss to Harrisburg Wednesday.
Facing some tough Harrisburg pitching, the Baysox hitters have struggled to get into a rhythm and failed to take advantage of the few opportunities they have with runners in scoring position.
"We had opportunities to get on the board more and we didn't," said Manager Gary Kendall. "We had pretty good swings off a good pitcher. The four hits don't bother me because I thought we hit some balls sharp early in the game. I was a little disappointed that when we got runners at third base we went into a panic mode a little bit. You can't go up there and expect a heater with a man on third base, you are going to get a slider or something that you are not expecting."
Making his second Major League rehab appearance with the Baysox and playing in left field, Nolan Reimold went 0-for-3 with a strikeout Wednesday. He also picked up an outfield assist, throwing out a Senators base runner trying to stretch a single into a double.
Baysox starter Mike Wright was tagged with his first loss of the season, dropping his record to 6-1. He pitched six innings and allowed three runs (two earned) on five hits while striking out three and walking two.
Harrisburg struck first in the top of the fourth inning against Wright. Justin Bloxom hit a one out single to right field and moved to second base after a line-out from Justin Bloxom and throwing error by Wright trying to turn the double play at first base. With Sandy Leon batting, Bloxom was able to score on a wild pitch and throwing error on catcher Caleb Joseph to make the score 1-0.
The Baysox tied the game 1-1 in the bottom of the fifth inning against Harrisburg starter Taylor Jordan. Designated hitter Seth Loman hit a lead off single to right field and first baseman Aaron Baker followed with a walk. Center fielder Kyle Hudson advanced both batters with a sacrifice bunt and second baseman Josh Horton brought Loman home on a fielder's choice.
The Senators battled back to retake the lead in the top of the sixth inning. Josh Johnson drew a lead off walk, stole second base and moved to third base on a single to left field from Brian Goodwin. Sean Nicol then singled to the pitcher to plate Johnson and move Goodwin to second base. A Bloxom sacrifice bunt advanced both runners and Jimmy Van Ostrand was intentionally walked to load the bases. Leon hit into an RBI groundout to give Harrisburg the 3-1 lead.
Baysox reliever Matt Bischoff pitched one and two-thirds scoreless innings, not allowing a hit while striking out four and walking two. Reliever Zech Zinicola pitched one and one-third scoreless innings to finish the game, allowing one hit.
The reigning Eastern League Pitcher of the Week, Jordan picked up another win for Harrisburg, improving to 6-0 on the season with a 0.73 ERA. He threw eight innings and allowed one run on three hits while striking out three and walking two. Harrisburg closer Aaron Barrett earned his 13th save of the season, pitching a scoreless ninth inning.
RHP Tyler Wilson (1-0, 4.35) takes the mound for the Baysox tomorrow as the team plays the final game in a three game home series against the Harrisburg Senators. He will be opposed by RHP Nate Karns (4-2, 4.60).
The Baysox are home through Sunday, June 23 for a six game home stand. Highlights include an appearance by former Cy Young award winner Denny McLain Thursday, June 20 during the 7:05 p.m. game and Star Wars Night Saturday, June 22 during the 6:35 p.m. game.
Baysox Baseball – We'll Knock Your 'Sox Off. The Baysox 2013 season and 20th season of baseball at Prince George's Stadium is underway. Parking is free at every Baysox home game and tickets are available at www.baysox.com, or by calling the Baysox box office at (301) 464-4865.