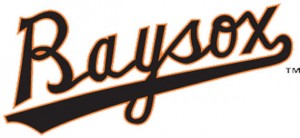 The Baysox (37-38) jumped out to an early six run lead and the Flying Squirrels (38-39) were never able to catch up during a 7-4 win over Richmond Wednesday afternoon.
Serving as the designated hitter, Orioles Major League rehabber Nolan Reimold had his best outing with the Baysox, going 3-for-6 and scoring a run. Right fielder Henry Urrutia also recorded his third straight multi-hit game. He is now batting an Eastern League best .365.
Bowie took the lead early in the first inning after a one out, RBI single by Urrutia of Richmond's starter Craig Westcott (3-7, 3.62 ERA). The run followed back-to-back singles by Ty Kelly and Reimold.
Center fielder Kyle Hudson added to the Baysox lead in the top of the second, scoring shortstop Josh Horton on a two out single to center. The inning ended with Reimold grounding into a force out but not before the Bowie extended the lead, 2-0.
Hudson continued to help the Baysox in the bottom of the third inning when he threw out Richmond catcher Mark Wagner at the plate after a triple to center by designated hitter Javier Herrera.
A two out, solo home run by left fielder Chris Pettit in the top of the fourth, extended the lead to 3-0 in favor of the Baysox.
Bowie continued to put on an impressive offensive performance in the top of the fifth inning. Kelly and Reimold started things off with a pair of singles, bringing the Urrutia to the plate. Urrutia hit a groundball to center, which in turn scored both Kelly and Reimold. A subsequent throwing error by Flying Squirrels center fielder Ryan Lollis moved Urrutia to third. Baysox catcher Caleb Joseph then went on to score Urrutia on another no out single to left field. Westcott was replaced shortly after by RHP Jose Valdez who retired the side but not before the Baysox could further their lead to a comfortable 6-0.
Richmond finally got on the board in the bottom of the sixth inning after a line drive single by Brett Krill, which scored shortstop Joe Panik. Lollis went on to single during the following at bat scoring third baseman Adam Duvall and placing two more runners in scoring position. The Baysox then looked to the bullpen for support bringing in RHP Zech Zinicola to replace Petit. Richmond would respond with a one out double by Wagner that scored both first baseman Ricky Oropesa and Krill. The side was finally retired after an unassisted double play by Baysox second baseman Garabez Rosa, but not before Richmond made the score 6-4.
In the top of the eighth inning, Hudson scored following a two out single to center by Joseph off Richmond reliever Drew Bowlin. The next batter, Baker, walked which led to another pitching change by Richmond, replacing Bowlin with RHP Scott Shuman. Shuman retired the inning shortly after, with a fly out to center by Rosa. This left the score 7-4 Bowie, going into the bottom of the eighth.
The win was awarded to Petit, who gave up four runs on nine hits after 5.1 innings pitched. Zinicola pitched two and two-thirds scoreless innings, allowing one hit while striking out one and walking one. Marcel Prado earned his sixth save of the season, pitching a scoreless ninth inning where he walked two and struck out one.
Westcott was given the loss after allowing six runs on 11 hits through four innings pitched.
RHP Devin Jones (3-2, 5.53) takes the mound for the Baysox tomorrow as the team begins a four game home series with the Harrisburg Senators. He will be opposed by RHP Rob Gilliam (2-2, 5.40).
The Baysox return home Thursday, June 27 to begin a seven game home stand against the Harrisburg Senators and Akron Aeros. Thursday is Thanksgiving in June beginning at 7:05 p.m. and Orange and 'Black Friday' Night follow June 28 beginning at 7:05 p.m.
Baysox Baseball – We'll Knock Your 'Sox Off. The Baysox 2013 season and 20th season of baseball at Prince George's Stadium is underway. Parking is free at every Baysox home game and tickets are available at www.baysox.com, or by calling the Baysox box office at (301) 464-4865.