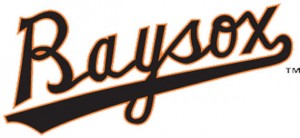 Trailing by eight runs after the top of the fourth inning, The Baysox (34-36) battled back for their largest come-from-behind win of the season, beating the Altoona Curve (33-39) 10-9 Saturday.
"It's tough when you are down that much but we knew we had a lot of outs left," said center fielder Kyle Hudson, who finished the game with three hits and three RBI. "We knew we could put up some runs so we just never gave up. The pitchers back us up when we are struggling and we do the same for them.
The Baysox used a six run seventh inning to take their first lead of the game after scoring four runs in the previous three innings to begin the comeback. The Baysox previous biggest comeback of the season was six runs and that came April 9 against Richmond.
"Didn't get off to a good start, but we hung in there," said Manager Gary Kendall. "I kind of thought we had a chance, early as it was in the game. When we got those runs, I thought if we could ever get their starter out of there and get to their bullpen, we would have a chance and then it started to materialize. We started to peck away and get some hits. It was a great team effort."
Altoona jumped out to a quick lead in the top of the first inning against Baysox starter Devin Jones. Adalberto Santos and Drew Maggi started the game off with back-to-back singles and Gregory Polanco then homered to center field to give the Curve a 3-0 lead.
The Curve added to their lead in the top of the second inning. Gift Ngoepe reached on a fielding error by second baseman Garabez Rosa and moved to third base after a double to left field from Santos. Ngoepe scored on a sacrifice fly from Maggi to make the score 4-0.
Altoona scored again in the top of the third inning. Alex Dickerson was hit by a pitch to start the inning and he moved to third base after a double to left field by Jarek Cunningham. Carlos Paulino brought Dickerson home with a groundout to shortstop to give the Curve a 5-0 lead.
The Curve blew the game wide open in the top of the fourth inning. Ngoepe hit a lead off double to right field and Santos followed with a home run to left field. Maggi drew a walk and Matt Bischoff then replaced Jones on the mound. Maggi then stole second base and Dickerson singled to left field to plate Maggi and make the score 8-0.
The Baysox got two runs back in the bottom of the fourth inning against Altoona starter Jameson Taillon. First baseman Aaron Baker drew a lead off walk and Rosa followed with a single to left field. Both runners advanced on a Steven Bumbry groundout and Baker scored on a groundout by shortstop Josh Horton. Hudson followed with an infield single that plated Rosa and made the score 8-2.
Bowie cut into the lead again in the bottom of the sixth inning against reliever Jason Townsend. Rosa drew a one out walk and Bumbry reached on a throwing error by the catcher. Horton then drew a walk to load the bases and Hudson followed with a single to left field to plate Rosa and keep the bases loaded. Third baseman Ty Kelly hit a sacrifice fly to center field to plate the second run of the inning and make the score 8-4.
The Baysox came storming back to take the lead in the bottom of the seventh inning. Reimold drew a lead off walk but was forced out at second base on a groundout by left fielder Henry Urrutia. Catcher Caleb Joseph followed with a double to center field and Jhonathan Ramos then replaced Townsend on the mound. Ramos allowed five consecutive hits leading to four runs before a sacrifice fly by Kelly led to the fifth run and second out of the inning. Quinton Miller then replaced Ramos on the mound and walked Reimold and Urrutia to bring in the sixth run of the inning and give Bowie a 10-8 lead.
"We had a lot of good at-bats that inning," Hudson said. "We had a couple lefties get hits off their lefty pitcher – Baker with that triple and Horton with a hit too. We knew if we got guys on base we would have a chance to drive them in. It was a good time."
The Curve got one run back in the top of the eighth inning against Baysox reliever Chris Petrini. Polanco hit a two out single to right field and moved to second base on a single to left field from Dickerson. Zech Zinicola then replaced Petrini on the mound and surrendered a single to center field from Cunningham that plated Polanco and made the score 10-9.
Jones pitched three innings and allowed eight runs (seven earned) on nine hits while striking out five and walking one in the loss. Bischoff pitched three scoreless innings, allowing one hit while striking out two and walking two batters. Reliever Tim Bascom pitched a scoreless seventh inning, allowing one hit and walking two batters in the win. Petrini pitched two-thirds of an inning and allowed one run on two hits and a walk. Zinicola recorded the final out of the eighth inning, allowing one hit and striking out one. Marcel Prado picked up his fourth save of the season, pitching a perfect ninth inning.
Ramos took the loss for Altoona, pitching one-third of an inning and allowing four runs on five hits.
RHP Eddie Gamboa (2-5, 4.12) takes the mound for the Baysox tomorrow as the team plays the final game in a three game home series with the Altoona Curve. He will be opposed by RHP David Bromberg (3-6, 3.66).
The Baysox are home through Sunday, June 23 for a six game home stand. The final Bud Light 1K Beer Run of the season is Sunday, June 23 before the 2:05 p.m. game.
Baysox Baseball – We'll Knock Your 'Sox Off. The Baysox 2013 season and 20th season of baseball at Prince George's Stadium is underway. Parking is free at every Baysox home game and tickets are available at www.baysox.com, or by calling the Baysox box office at (301) 464-4865.