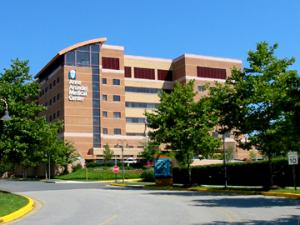 Anne Arundel Medical Center's (AAMC's) DeCesaris Cancer Institute is hosting National Cancer Survivors Day on Sunday, June 9 from noon to 4pm to celebrate the lives of those affected by cancer. Cancer survivors, caregivers, family members, friends, and healthcare professionals will unite to show that life after a cancer diagnosis can be meaningful and productive. This annual, worldwide celebration of life is held in hundreds of communities throughout the United States, and around the world. AAMC is hosting the event for a fourth year in a row.
"This celebration is a wonderful opportunity to pause for a moment and honor all cancer survivors who have survived the challenges of treatment and who are now celebrating their life in full bloom," says Cathy Copertino, executive director of the AAMC DeCesaris Cancer Institute.
Participants will meet NASCAR driver and cancer survivor, Donnie Neuenberger,  hear a keynote by Scott Burton, comedian and motivational speaker, on "Looking for Laughter in All the Wrong Places," and attend free workshops from health care providers on topics such as "The Power of Positive Thinking by Dr. Tom Muha, the "achieving happiness" psychologist. During the workshops, cancer survivors will learn about the benefits of nutrition and exercise as well as learn about the future of cancer care from various experts.
Other activities include face painting, cup stacking demos, caricature portraits, photo sessions with medical care providers, hand massage, raffle prizes, exhibits and more.
According to the Maryland State Council on Cancer Control, as of 2009, there were more than 290,000 Marylanders who were cancer survivors, comprising more than 20 percent of the population 65 years and older. Typically, cancer survivors are reported to have very stable mental health and are more active in the maintenance of their health after the diagnosis of cancer. They are enlightened advocates not only for themselves but also for those who will come after them.
Sunday, June 9 2012 in AAMC's Doordan Institute, 7th floor, Health Sciences Pavilion,
2000 Medical Parkway, Annapolis.
This event is free and open to all cancer survivors and their supporters. RSVP online at askAAMC.org /NCSD or by calling 443-481-5864.