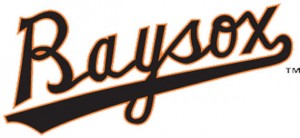 Brandon Waring hit his first home run of the season, a three-run blast, to help boost the Baysox (15-20) past the New Britain Rock Cats (20-18) 8-2 Tuesday evening. The Baysox hit their first two three-run home runs of the season during the game.
"We got some timely hitting," said Manager Gary Kendall. "We had five hits late in the game, but they were the hits we haven't been getting – the three run homer. We hooked a couple balls in that Erie series foul that we had a chance to drive out, you just have to have a little better hand position on the ball."
Baysox starter Devin Jones had one of his best outings of the season, pitching seven innings and allowing two runs on four hits while striking out seven in the win.
"I started turning the ball loose a little bit and just really trusting it and trusting the defense," Jones said. "The defense played great; they took away a couple hits and that just gave me more confidence to put it in the zone and just try not to walk anybody. My slider was there – I felt like I could put it wherever I wanted and that helped me get out of a couple jams."
The Baysox used a New Britain error to take a third inning lead against starter B.J. Hermsen. Left fielder Kyle Hudson hit a lead off single to shortstop and moved to third base after a single to right field by center fielder Xavier Avery. Hudson scored after a throwing error by Rock Cats catcher Josmil Pinto on a stolen base attempt by Avery to give Bowie a 1-0 lead.
Bowie extended their lead in the bottom of the fourth inning. Right fielder Henry Urrutia reached on a throwing error and second baseman Zelous Wheeler followed with a walk. Designated hitter Luis Martinez reached on a force out that moved Urrutia to third base and eliminated Wheeler at second base for the second out. Waring then hit his first home run of the season over the scoreboard in left-center field to give the Baysox a 4-0 lead.
New Britain got one run back in the top of the fifth inning against Jones. Daniel Ortiz hit a lead off double to right field and scored on a Dan Rohlfing single to center field to make the score 4-1.
The Rock Cats got another run back in the top of the sixth inning. Jason Christian tripled to center field and scored on a groundout from Deibinson Romero to make the score 4-2.
The Baysox added some insurance runs in the bottom of the 8th against New Britain reliever Bobby Lanigan. Third baseman Ty Kelly hit a lead off double to left field and moved to third base when shortstop Niuman Romero singled to left field. Catcher Caleb Joseph reached on a fielder's choice where the Rock Cats failed to throw Kelly out at home. Urrutia then cleared the bases with a three-run homer to center field to give Bowie an 8-2 lead.
Left-handed reliever Jason Gurka pitched the final two innings for the Baysox, not allowing a hit and striking out three for his third save of the season.
Hermsen took the loss for New Britain, pitching six innings and allowing four unearned runs on five hits while striking out four and walking two.
RHP Eddie Gamboa (0-3, 4.14) takes the mound for the Baysox tomorrow as the team plays the second in a three game series against the New Britain Rock Cats. He will be opposed by LHP Pat Dean (1-3, 4.23)
The Baysox are home through Thursday, May 16 for an eight day, seven game home stand. Mustache Madness is Thursday, May 16 in a game starting at 7:05 p.m.
Baysox Baseball – We'll Knock Your 'Sox Off. The Baysox 2013 season and 20th season of baseball at Prince George's Stadium is underway. Parking is free at every Baysox home game and tickets are available at www.baysox.com, or by calling the Baysox box office at (301) 464-4865.