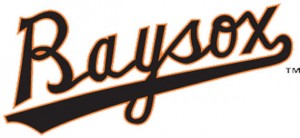 The Baysox (23-25) fell behind early and never recovered in a 7-4 loss to the Trenton Thunder (27-24) Memorial Day Monday for the team's third consecutive loss.
The Thunder hitters were crawling all over the bases, recording 10 hits and seven walks as a Trenton batter reached base in every inning but one. The Baysox trailed by four runs for much of the game, limiting what the team could do offensively while playing catch-up.
"We didn't do a good job commanding the ball today and we fell behind early," said Manager Gary Kendall. "Whenever you have to play catch-up, you kind of limit what you have because it takes running and bunting out of it. Trying to come back and score seven against good pitching is a hard thing to do."
Trenton jumped out to an early lead in the top of the first inning against Baysox starter Zach Clark. Ramon Flores drew a lead off walk and moved to second base on a single to left field by Slade Heathcott. Both runners advanced on a passed ball and Flores scored on a sacrifice fly by Tyler Austin to give Trenton a 1-0 lead.
The Baysox came right back to take the lead in the bottom of the first inning against Trenton starter Jose Ramirez. Third baseman Ty Kelly drew a one out walk and catcher Caleb Joseph hit a two-out home run to give Bowie a 2-1 lead.
The Thunder stormed back to take the lead in the top of the second inning. Jose Pirela drew a lead off walk and the next three batters singled to bring home two runs. With runners on second and third with one out, Heathcott brought in a run on a groundout and Austin cleared the bases with a two-run home run to left field to make the score 6-2.
Designated hitter Brandon Waring got a run back for the Baysox when he hit a solo home run over the fence in left field in the bottom of the fourth inning to make the score 6-3.
Kevin Mahoney extended the Trenton lead in the top of the sixth inning with a solo home run to right field against Baysox reliever Jason Gurka to make the score 7-3.
Bowie got another run back in the bottom of the seventh inning against Trenton reliever Aaron Dott. Waring hit a lead off single to left field and scored on a double to left field by first baseman Aaron Baker to make the score 7-4.
Clark pitched four and one-third innings and allowed six runs (five earned) on seven hits while striking out four and walking three in the loss. Gurka pitched one and two-thirds innings and allowed one run on one hit while striking out one and walking two. Right-handed reliever Clay Schrader pitched two scoreless innings, allowing two hits while striking out two batters and walking two more. Matt Bischoff pitched a scoreless ninth inning for the Baysox, allowing a hit and striking out two batters.
Ramirez earned the win for Trenton, pitching five and two-thirds innings and allowing three runs on five hits while striking out six and walking one. Trenton closer Tommy Kahnle earned his sixth save of the season, allowing one hit and striking out one.
LHP Jake Pettit (2-1, 4.38) takes the mound for the Baysox tomorrow as the team begins a three game home series with the Reading Fightin Phils.
The Baysox are home through Thursday, May 30 for a seven game homestand. Highlights include Tailgate Tuesday May 28 at 7:05 p.m. and Military Appreciation Night Wednesday May 29 during the game at 7:05 p.m.
Baysox Baseball – We'll Knock Your 'Sox Off. The Baysox 2013 season and 20th season of baseball at Prince George's Stadium is underway. Parking is free at every Baysox home game and tickets are available at www.baysox.com, or by calling the Baysox box office at (301) 464-4865.