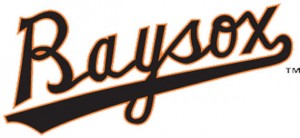 Bowie's bats never came to life as the Baysox (13-18) were shut down in a 5-1 loss to the Erie SeaWolves (20-12) Thursday evening.
"Tonight, [Saupold] had a pretty good idea how to pitch," said Manager Gary Kendall. "He could throw pitches over the plate; all of his stuff he could throw over the plate. He did a good job of changing speeds with his fastball, he sunk the ball, he got his breaking ball over, he had good command of his change-up. I'm not saying he was Cy Young, but out there but he threw a good ballgame. We have to take advantage of some opportunities to climb back in a game when they present themselves and we aren't doing that too well right now."
Erie struck first in the top of the first inning against knuckleballer Eddie Gamboa. Jamie Johnson hit a lead off infield single, Hernan Perez singled to center field and Daniel Fields walked to load the bases with no outs. After Tyler Collins brought home Johnson on a sacrifice fly, Gamboa was able to limit the damage with a caught stealing a strikeout to keep the score 1-0.
The SeaWolves added to the lead in the top of the fourth inning. James Robbins hit a two out single to right field and scored on a home run to left field by Wade Gaynor to give Erie a 3-0 lead.
Erie added another run in the top of the sixth inning. Collins doubled to left field and scored on a two-out RBI single to center field by Robbins to make the score 4-0.
Collins hit a solo home run to center field against left-handed reliever Chris Petrini in the top of the eighth inning to give Erie a 5-0 lead.
The Baysox broke up the shutout in the bottom of the eighth inning against Erie reliever Blaine Hardy. Center fielder Xavier Avery reached on a fielding error by the second baseman and moved to second base when left fielder Kyle Hudson walked. Third baseman Ty Kelly brought Avery home with a double to left field that made the score 5-1.
Gamboa pitched six innings and allowed four runs on seven hits while striking out four and walking one in the loss. Petrini pitched two innings and allowed one run on two hits while striking out two and walking one. Left-handed reliever Andy Loomis pitched a scoreless ninth inning, walking one batter.
Erie starter Warwick Saupold earned the win, pitching six and two-thirds scoreless innings while allowing three hits, striking out six batters and walking three.
Erie reliever Tyler Stohr pitched the final one and two-thirds innings, allowing one hit, striking out two and walking one in his first save of the season.
RHP Mike Wright (3-0, 4.91) takes the mound for the Baysox tomorrow as the team plays the second in a four game home series with the Erie SeaWolves. He will be opposed by LHP Matt Crouse (3-1, 3.33).
The Baysox are home through Thursday, May 16 for an eight day, seven game home stand. Friday and Saturday night are fireworks night and reading nights for Anne Arundel, Queen Anne's and Howard counties.
Baysox Baseball – We'll Knock Your 'Sox Off. The Baysox 2013 season and 20th season of baseball at Prince George's Stadium is underway. Parking is free at every Baysox home game and tickets are available at www.baysox.com, or by calling the Baysox box office at (301) 464-4865.