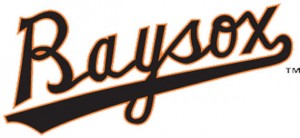 Despite a one hour, 42 minute delay to start the game, Bowie starter Jake Pettit threw eight shutout innings in the Baysox (24-25) 1-0 win over the Reading Fightin Phils (19-30) Tuesday. It was the Baysox first shutout win of the season.
"Pretty much everything was working for me today," Pettit said. "My sinker, especially, was on point today and had good depth to it. The rain threw me off a little today because I went out long-tossing to my max right before they put the tarp on. You just never know when you are going out there so it can be hard to keep your focus up and get prepared."
The Baysox offense recorded just four hits and scored one run in the first inning, but it was enough as Pettit allowed just two hits through the first seven innings and shut down the Reading offense.
"They were a very aggressive team swinging the bat, they went after a lot of pitches and [Pettit] kept them off stride all night, making good pitches with his change-up and his breaking ball," said Manager Gary Kendall. "He pitched the way Jake Pettit pitches, he had success here last year and he just went out there and repeated it tonight. He was really efficient with his pitches and you couldn't ask for any more."
When the game finally began, the Baysox jumped out to a quick lead in the bottom of the first inning against Reading starter David Buchanan. Shortstop Niuman Romero hit a one out single to center field and scored on a double to center field by Caleb Joseph to make the score 1-0.
Pettit pitched eight scoreless innings, allowing four hits and striking out four while walking one in the win. Baysox closer Zech Zinicola pitched the ninth inning, striking out two and walking one in his eighth save of the season.
Buchanan pitched six innings and allowed one run on four hits while striking out four and walking one in the loss.
RHP Devin Jones (3-2, 4.70) takes the mound for the Baysox tomorrow as the team plays the second in a three game home series with the Reading Fightin Phils. He will be opposed by LHP Austin Wright (0-3, 15.43).
The Baysox are home through Thursday, May 30 for a seven game homestand. Wednesday, May 29 is Military Appreciation Night and the game begins at 7:05 p.m.
Baysox Baseball – We'll Knock Your 'Sox Off. The Baysox 2013 season and 20th season of baseball at Prince George's Stadium is underway. Parking is free at every Baysox home game and tickets are available at www.baysox.com, or by calling the Baysox box office at (301) 464-4865.