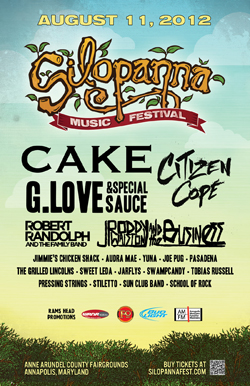 Last year brought us the first Silopanna Music Festival and it was one for the books with artists like Citizen Cope, Cake, G. Love & Special Sauce, Robert Randolph, J. Roddy Walston and the Business, Jimmie's Chicken Shack, and many more. Sadly, Rams Head Promotions has announced that the festival will not happen in 2013.
Those great memories make it extra hard to say that Silopanna Music Festival will not be making a run in 2013. With more than 700 concerts a year booked by Rams Head Promotions, we examine each show with care. The stars didn't align this year to put together a lineup that we could stand behind. Stay tuned for more exciting events, brought to you by Rams Head Group!
But boy, what a time it was in August of last year.  Check out our photos from last year!
Silopanna 2012 Recap from Rams Head Group on Vimeo.
There is no word is Silopanna will make a return in 2014!