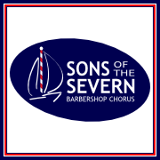 The Sons of the Severn Barbershop Chorus has announced it will hold its Spring concert on Saturday, May 25 at Trinity United Methodist Church in Annapolis. The event is open to the public, but no tickets will be sold. Instead, patrons in attendance will be invited to choose their own price of admission by contributing to a free will offering at the door. Donated proceeds will benefit Trinity United Methodist Church, which hosts the chorus' weekly rehearsals. The performance will start at 6 p.m.
"Name-your-own-price admission is a little unconventional," admits chorus president Dave Bankard, "but with the economy still struggling, we want to provide families with an affordable evening of entertainment here in Annapolis. So we're inviting people to contribute what they can, whatever they feel the experience is worth to them."
The idea for a regular concert event at the church came about two years ago, after the chorus performed for the congregation following a fellowship dinner.
"At the time, we were holding our own ticketed shows in a 600-seat auditorium, and struggling to fill the house," explains Sons of the Severn director T. J. Barranger.  "We fell in love with the acoustics in the sanctuary at Trinity, and we knew it was the perfect venue to showcase the power and beauty of the human voice."
Barranger adds that the chorus has been rehearsing several new pieces of music in preparation for the show, which will also include performances by local quartets. After the concert, the group will hold a complimentary reception and a drawing for prizes donated by local merchants.
The Sons of the Severn chorus is the performing arm of the Anne Arundel County, Maryland chapter of the Barbershop Harmony Society. Chartered in Annapolis in 1949, the chapter is a non-profit organization dedicated to preserving the American musical art form of barbershop harmony through education, performance, and community outreach. More information is available at www.SingAnnapolis.com.