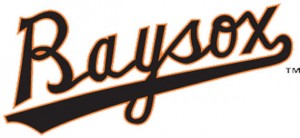 After leading for the first five innings, the Baysox (11-14) gave up seven runs in the sixth inning on the way to losing 11-6 to Richmond (13-13) Wednesday night for their fourth straight loss.
Despite matching the Flying Squirrels in hits (12-12) and drawing more walks (9-3), the Baysox grounded into three costly double plays that kept them from extending innings and putting more runs on the board. An error with the bases loaded in the sixth inning also contributed to the big inning for the Flying Squirrels.
Center fielder Xavier Avery got the Baysox off to a fast start with a lead off single to center field off Richmond starter Jack Snodgrass. Avery then stole second base and moved to third base on a wild pitch before scoring on an infield single by left fielder Kyle Hudson that gave Bowie a 1-0 lead.
The Baysox added a pair of runs and took a 3-0 lead in the second inning. First baseman Brandon Waring hit a lead off single but was put out at second base on a ground out by second baseman Buck Britton. The next three batters walked to bring in one run and Hudson brought in a second run on a groundout.
Richmond came back to tie the game 3-3 in the top of the fourth inning against Baysox starter Devin Jones. With one out, Mark Minicozzi was hit by a pitch and he moved to third base on a double to right field by Ricky Oropesa. One run scored on a single to left field by Javier Herrera and two more came in on a double to left field by Andrew Susac.
Bowie came back to retake the lead in the bottom of the fifth inning against Richmond reliever Taylor Rogers. Hudson reached on a single and moved to third base after an error and a passed ball. He scored on a double to center field by third baseman Ty Kelly and right fielder Henry Urrutia followed with a single to left field that plated Kelly and gave the Baysox a 5-3 lead.
The Squirrels came flying back in the top of the sixth inning with seven runs to take their first lead of the game. Jones surrendered back-to-back doubles to start off the inning before recording his first out and then was replaced by left-handed reliever Chris Petrini. Petrini walked the first batter he faced and surrendered consecutive singles to bring in another run. After Ehire Adrianza reached on a force out and missed catch error by Britton, Petrini walked a batter and surrendered a bases clearing double to make the score 10-5.
Susac put the Squirrels up 11-5 with a solo home run to left field off Baysox reliever Matt Bischoff in the top of the ninth.
The Baysox got one run back in the bottom of the ninth inning against Richmond reliever Omar Javier. Kelly hit a lead off single and catcher Caleb Joseph drew a walk before Daryl Maday replaced Javier on the mound. Maday walked Waring to load the bases and Britton hit into an RBI groundout that plated Kelly and made the score 11-6
Jones pitched five and one-third innings and allowed five runs on seven hits while striking out five in the no decision. Petrini pitched two and two-thirds innings and allowed five runs (four earned) on four hits while striking out five and walking three in the loss. Bischoff pitched the ninth inning and allowed one run on one hit while striking out one.
Richmond starter Snodgrass lasted just two innings, allowing three runs on four hits while walking three in the no decision. Rogers picked up the win for Richmond, pitching three and one-third innings and allowing two runs on five hits while striking out one and walking four.
RHP Mike Wright (2-0, 5.40) takes the mound for the Baysox tomorrow as the team plays the final game in a four game home series with the Richmond Flying Squirrels. He will be opposed by LHP Ryan Bradley (0-2, 7.02).
Friday, the Baysox depart on a six game road trip to Akron and Richmond before returning home for seven games in eight days on Thursday, May 9.
Baysox Baseball – We'll Knock Your 'Sox Off. The Baysox 2013 season and 20th season of baseball at Prince George's Stadium is underway. Parking is free at every Baysox home game and tickets are available at www.baysox.com, or by calling the Baysox box office at (301) 464-4865.