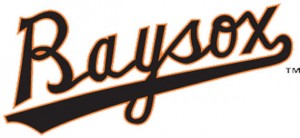 The Erie SeaWolves (21-13) broke a tie with a run in the top of the ninth inning to beat the Baysox (14-19) 2-1 on a rain-soaked Saturday evening. The Baysox are now 0-6 when tied after the eighth inning this season.
Baysox starting pitcher Kevin Gausman threw four and two-thirds innings and allowed one run on three hits while striking out three and walking seven in a no decision. In his six previous starts, he had walked just one batter.
The Baysox scored their one and only run in the bottom of the first inning against Erie starter Victor Larez. Center fielder Xavier Avery hit a lead off single to right field and advanced to second base on a fielding error. Avery moved to third on a groundout by Buck Britton and scored on a Caleb Joseph single to give Bowie a 1-0 lead.
Erie came back to tie the game in the top of the third inning against Gausman. Marcus Lemon hit a one out single to center field and moved to third base on a Eugenio Suarez single to right field. Lemon scored on a wild pitch by Gausman to tie the game 1-1.
The SeaWolves took their first lead of the game in the top of the ninth inning against Baysox reliever Tom Boleska. Wade Gaynor drew a lead off walk and proceeded to steal second base. He moved to third on a single by Lemon and scored on a Eugenio Suarez single to left field to give Erie the 2-1 lead.
Right-handed reliever Clay Schrader pitched two and one-third scoreless innings in relief of Gausman, not allowing a hit and striking out three batters while walking one. Boleska pitched two innings and allowed one run on two hits while striking out one and walking two in the loss.
Erie reliever Will Startup earned the win, pitching three and two-thirds scoreless innings to close out the game and not allowing a hit while striking out three,
RHP Zach Clark takes the mound for the Baysox tomorrow in his first start throwing the knuckleball as the team plays the final game in a four game home series with the Erie SeaWolves. He will be opposed by LHP Kyle Lobstein (3-2, 2.89).
The Baysox are home through Thursday, May 16 for an eight day, seven game home stand. Celebrate Mother's Day with the Baysox Sunday, May 12 during a game starting at 2:05 p.m. and enjoy Tightwad Tuesday May 14 in a game starting at 7:05 p.m.
Baysox Baseball – We'll Knock Your 'Sox Off. The Baysox 2013 season and 20th season of baseball at Prince George's Stadium is underway. Parking is free at every Baysox home game and tickets are available at www.baysox.com, or by calling the Baysox box office at (301) 464-4865.