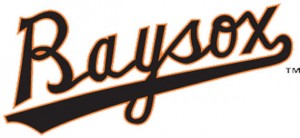 The Bowie Baysox (22-21) used four Akron Aeros (20-26) errors to score four unearned runs and win their fourth straight game, 7-5 on Wednesday night.
The Baysox got out to the quick start in the first inning.  With one out, Niuman Romero walked and Caleb Joseph followed with his ninth home run of the season to get the Baysox on the board.  Henry Urrutia walked and with two outs stole second.  Then Brandon Waring knocked him in with an RBI single to make the score 3-0.
In the fourth inning, the Aeros got on the board.  Cedric Hunter led off with a triple and scored on a wild pitch.  The next batter, Jesus Aguilar, hit his fifth home run of the season to cut the lead to 3-2.
The Baysox tacked on three more runs in the sixth inning.  Garabez Rosa led off with a single, went to second on an error, to third on a groundout and scored when Ty Kelly reached on an error.  Romero followed with a triple to bring home Kelly and then scored on a wild pitch to make the score 6-2.
In the bottom of the seventh inning, the Aeros cut the lead in half.  They loaded up the bases with one out and then Jose Ramirez hit an RBI single to bring in the first run of the inning.  Then Tyler Holt hit into a fielder's choice that knocked in the second run of the game to make the score 6-4.
Henry Urrutia added to the lead in the ninth with an RBI single that extended the lead to 7-4.
The Aeros got a run in the ninth on an RBI groundout by Jose Ramirez to finish off the scoring at 7-5.
Zach Clark got his first win as a knuckleballer throwing five innings and allowing two runs on five hits with four strikeouts and two walks.
The loss went to rehabber Brett Myers who gave up three runs on two hits in 4.1 innings of work.
Tomorrow in the finale of the series LHP Jake Pettit (2-0, 3.86) will be going up against RHP Brett Brach (1-2, 4.03).
Baysox Baseball – We'll Knock Your 'Sox Off. The Baysox 2013 season and 20th season of baseball at Prince George's Stadium is underway. Parking is free at every Baysox home game and tickets are available at www.baysox.com, or by calling the Baysox box office at (301) 464-4865.