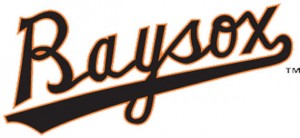 Third baseman Ty Kelly knocked in five runs to help the Baysox (17-20) beat the New Britain Rock Cats (20-20) 9-1 and sweep the three-game series Thursday night. It is the Baysox first series sweep of the season and first three-game home sweep since the team did it against Portland in June 2012.
"It's always nice to get a sweep," Kelly said. "Sometimes you just go on streaks against a team where everyone is playing well and this was fortunately one of those times for us so it was good to win a series."
Baysox starter Mike Wright pitched six shutout innings, allowing just two hits and striking out a career-high eight batters while walking just one in his team-high fifth win of the season.
For Kelly, the five-RBI game was the second of his career and the first of the season for the Baysox. The team's last five-RBI game was achieved by outfielder Ronnie Welty, who knocked in eight runs against the Harrisburg Senators August 23, 2012.
"It's great to go up there with guys on base," Kelly said. "Pitchers have to throw strikes to you so you know you are going to get a pitch to hit. Everyone just kind of feeds of each other; when one guy gets on base, it opens up holes for the next guy. It's really nice to go up there and hit with people on base in front of you."
The Baysox scored first in the top of the first inning against New Britain starter Trevor May. Left fielder Xavier Avery hit a ground rule double to left field and moved to third base on a groundout by Kelly. Shortstop Niuman Romero brought Avery home with a single to right field and designated hitter Caleb Joseph followed with a single to center field. Right fielder Henry Urrutia walked to load the bases and catcher Luis Martinez brought a run home with a single to right field to give Bowie a 2-0 lead.
Bowie added another run to take a 3-0 lead in the top of the second inning. Avery hit a two-out triple to center field and scored on a Kelly single to center field.
The Baysox extended their lead again in the bottom of the fourth inning. Center fielder Kyle Hudson drew a one out walk, stole second base and scored on a two out single to center field by Kelly. Kelly moved to second base on a wild pitch and he scored on a single to right field by Romero to make the score 5-0.
Bowie blew the game open against New Britain reliever Jose Gonzalez in the bottom of the sixth inning. Shortstop Garabez Rosa and Hudson each walked to start the inning and Avery reached on a bunt single to load the bases. Kelly cleared the bases with a three-RBI double to left field and then moved to third base on a wild pitch before scoring on a Romero groundout to make the score 9-0. Bobby Lanigan replaced Gonzalez on the mound to finish the inning.
The Rock Cats broke the Baysox shut out in the top of the eighth inning against Baysox reliever Eric Beaulac. Jonathan Goncalves drew a one out walk and moved to second base after a single to right field by Danny Santana. With two outs, Daniel Ortiz singled to center field to plate Goncalves and make the score 9-1.
Right-handed reliever Clay Schrader pitched a scoreless seventh inning for the Baysox, walking one batter and striking out two. Beaulac pitched one inning and allowed one run on two hits while walking two batters. Reliever Zech Zinicola pitched the ninth inning, striking out one batter and not allowing a hit or a run.
May took the loss for New Britain, pitching four innings and allowing five runs on nine hits while striking out three and walking two.
RHP Kevin Gausman (1-4, 3.35) takes the mound for the Baysox tomorrow as the team begins a three game road series with the Trenton Thunder. He will be opposed by RHP Jose Ramirez (0-1, 1.42)
The Baysox depart Friday, May 17 for a seven game road trip that includes stops in Trenton and Akron. The team returns home Friday, May 24 to being a seven game home stand.
Baysox Baseball – We'll Knock Your 'Sox Off. The Baysox 2013 season and 20th season of baseball at Prince George's Stadium is underway. Parking is free at every Baysox home game and tickets are available at www.baysox.com, or by calling the Baysox box office at (301) 464-4865.