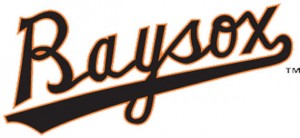 The Baysox (23-22) were able to slip past the Trenton Thunder (24-24) 4-2 on an unseasonably cold May night Thursday where neither team was able to get much momentum going offensively.
"On a cold night like this, I was really happy with how we played," said Manager Gary Kendall. "You can't get a sweat going in batting practice and it's hard to get anything going on offense."
Baysox starter Devin Jones continued a stretch of strong starts, pitching five innings and allowing two runs on five hits while striking out five and walking two in the win.
Trenton jumped out to the early lead in the top of the first against Jones. Ramon Flores hit a lead off single to center field and Tyler Austin homered to left field to give the Thunder a 2-0 lead.
The Baysox got one run back in the bottom of the second inning against Trenton starter Zach Nuding when center fielder Steve Bumbry hit a solo home run to right field.
[Bumbry] has some power," Kendall said. "We were kind of waiting for it as an organization. He's a guy who can drive the ball; he had five homers in Frederick. He just needs to cut out the strikeouts and put the ball in play, but we are happy to have him because we are playing short after losing [Kyle] Hudson and [Xavier] Avery."
Bowie took the lead in the bottom of the fourth inning. Left fielder Garabez Rosa hit a one out single to center field and Bumbry was hit by a pitch. Second baseman Ty Kelly walked to load the bases and shortstop Niuman Romero brought home two runs with a single to center field to make the score 3-2.
The Baysox added an insurance run in the bottom of the eighth inning against Trenton reliever Branden Pinder. Designated hitter Luis Martinez hit a one out double to right field and Cale Iorg then came in as a pinch-runner. Rosa moved Iorg to third base on a groundout and he scored on a single to left field by Bumbry to make the score 4-2.
Baysox reliever Jason Gurka pitched three scoreless innings in relief of Jones, allowing two hits and striking out three batters. Closer Zech Zinicola recorded his seventh save of the season, pitching a scoreless ninth inning.
Nuding took the loss for Trenton, pitching five innings and allowing three runs on six hits while striking out one and walking two.
RHP Eddie Gamboa (1-3, 4.24) takes the mound for the Baysox tomorrow as the team plays the second in a four game home series with the Trenton Thunder. He will be opposed by RHP Mikey O'Brien (3-0, 2.00).
The Baysox are home through Thursday, May 30 for a seven game homestand. Highlights include a Night at the Races Saturday, May 25 during the game at 6:35 p.m. and Orioles Pride Day Sunday, May 26 during a 2:05 p.m. game.
Baysox Baseball – We'll Knock Your 'Sox Off. The Baysox 2013 season and 20th season of baseball at Prince George's Stadium is underway. Parking is free at every Baysox home game and tickets are available at www.baysox.com, or by calling the Baysox box office at (301) 464-4865.
Category: LIFE IN THE AREA, OPINION, Sports