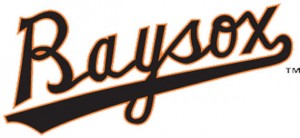 Wearing special red polka dot uniforms to pay tribute to local Belair Stables, the Baysox (23-23) fell prey to a ninth inning rally by the Trenton Thunder (25-24) in a 5-4 loss Saturday night. With a RBI single in the sixth inning, Caleb Joseph became the Baysox career RBI leader, knocking in 177 runs during five seasons in Bowie.
Down to their final out with runners on first and second, Trenton infielder Walter Ibarra was able to make it home from second base on a single hit into shallow right field to tie the game. The Baysox bullpen then walked a pair of batters and hit another to give the Thunder a two run lead.
"It was a weird sequence of events in the ninth," Joseph said. "We felt like we had a pretty good grip on the game and whenever games like that slip out of your hands, it's tough. I felt like we played really well and had good pitching and then out of nowhere, you blink and we are losing."
The Baysox left a season-high 14 runners on base and hit just 3-for-16 with runners in scoring position. Despite nine hits and seven walks, the team was able to come away with just three runs.
Baysox starting pitcher Eddie Gamboa threw five innings and allowed two earned runs on six hits while striking out five and walking three in the no decision.
Trenton jumped out to the early 1-0 lead in the top of the first inning against Gamboa when Slade Heathcott hit a solo home run to right field.
The Baysox came back to take the lead in the bottom of the fourth inning against Trenton starter Mikey O'Brien. Third baseman Brandon Waring was hit by a pitch and first baseman Aaron Baker followed with a single to right field that moved Waring to second base. Both runners advanced on a sacrifice bunt by second baseman Josh Horton and Waring scored on a sacrifice fly by left fielder Garabez Rosa. Catcher Brian Ward hit a two out single to right field to plate Baker and give the Baysox a 2-0 lead.
The Thunder tied the game in the top of the sixth inning. JR Murphy hit a lead off single to right field and reliever Chris Petrini then replaced Gamboa on the mound. Murphy moved to second base on a wild pitch and then to third base after a flyout by Kyle Roller. Neil Medchill brought Murphy home with a sacrifice fly to tie the game 2-2.
Bowie retook the lead in the bottom of the sixth inning against Trenton reliever Fred Lewis. Center fielder Steven Bumbry drew a one out walk and moved to second base on a single by shortstop Niuman Romero. Joseph brought Bumbry home with a single to center field to make the score 3-2.
Trenton came back to take the lead in the top of the ninth inning against Baysox reliever Tom Boleska. Ibarra hit a lead off single to second base and moved to second base on a sacrifice bunt by Ali Castillo. Ramon Flores walked and Tyler Austin plated Ibarra with a two-out infield single to second base to tie the game. Murphy walked to load the bases and reliever Clay Schrader replaced Boleska on the mound. Schrader hit Roller to bring in a run and walked Medchill to bring in a second run and give Trenton a 5-3 lead.
Rosa got one run back for the Baysox in the bottom of the ninth with a two-out solo home run to right field to make the score 5-4.
Petrini pitched two innings, allowing one hit, walking one and striking out one batter. Boleska pitched one and two-thirds innings and allowed three runs on three hits while striking out three and walking two in the loss. Schrader pitched one third of an inning and walked one batter while hitting another.
Trenton reliever Matt Daley earned the win, pitching one and one-third scoreless innings and walking two batters while striking out two more. Tommy Kahnle picked up his fifth save of the season, allowing one run on one hit and striking out two in the ninth inning.
RHP Mike Wright (6-0, 3.69) takes the mound for the Baysox tomorrow as the team plays the third in a four game home series with the Trenton Thunder. He will be opposed by LHP Matt Tracy (4-3, 6.43).
The Baysox are home through Thursday, May 30 for a seven game homestand. Highlights include Orioles Pride Day and a Manny Machado Baysox T-shirt Giveaway Sunday, May 26 during a 2:05 p.m. game and Mutt Monday May 27 beginning at 2:05 p.m.
Baysox Baseball – We'll Knock Your 'Sox Off. The Baysox 2013 season and 20th season of baseball at Prince George's Stadium is underway. Parking is free at every Baysox home game and tickets are available at www.baysox.com, or by calling the Baysox box office at (301) 464-4865.