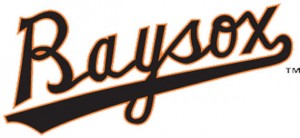 The Baysox (14-18) recorded 12 hits on the way to a 5-1 win over the Erie SeaWolves (20-13) Friday night to end a four game losing streak.
Baysox starter Mike Wright had another solid outing, pitching six innings and allowing one run on five hits while striking out six and walking one in his team-leading fourth win of the season.
"[Wright] threw very well; it was probably his best outing of the year," said Manager Gary Kendall. "Sometimes Mike has some tendencies to let some things speed up when he gets two outs and he has addressed that and Blaine has addressed that with him. Tonight he made some big pitches to get out of some jams with runners in scoring position and two outs."
The Baysox got off to a strong start with five hits against Erie starter Matt Crouse in the bottom of the first inning. Center fielder Xavier Avery hit a lead off single to center field and left fielder Buck Britton followed with a single to left field. After Avery advanced on a Zelous Wheeler flyout, he scored on a single to left field by catcher Caleb Joseph. Right fielder Henry Urrutia singled to right field to load the bases and third baseman Ty Kelly brought home two runs with a single to left field that gave Bowie a 3-0 lead.
Erie got on the board in the top of the fourth inning against Wright. Tyler Collins hit a one out single to left field and moved to third base on a single to left field by James McCann. Collins scored on a groundout by James Robbins to make the score 3-1.
Bowie added to the lead in the bottom of the fourth inning. Urrutia hit a lead off double to left field and scored when designated hitter Luis Martinez singled to left field to give the Baysox a 4-1 lead.
Britton gave the Baysox a 5-1 lead in the bottom of the fifth inning with a solo home run to right field.
Left-hander Jason Gurka pitched three scoreless innings in relief of Wright, allowing just two hits and striking out five batters for his second save of the season. Gurka has picked up three inning saves in his last two outings and has not allowed a run in his last six outings.
"Since we had the rainouts, I missed a few appearances and was on seven days rest so I felt really fresh," Gurka said. "This team had a lot of lefties so the matchup was tough for them and I got a lot of strikeouts. I was mixing my pitches and hitting the corners, changing eye levels and coming in tight off the plate."
Crouse pitched five innings and allowed five runs on 11 hits while striking out one in the loss for Erie.
RHP Kevin Gausman (1-4, 3.53) takes the mound for the Baysox tomorrow as the team plays the third in a four game home series with the Erie SeaWolves. He will be opposed by RHP Victor Larez (5-0, 3.82).
The Baysox are home through Thursday, May 16 for an eight day, seven game home stand. Saturday is a fireworks night and a reading night for Anne Arundel, Queen Anne's and Howard counties.
Baysox Baseball – We'll Knock Your 'Sox Off. The Baysox 2013 season and 20th season of baseball at Prince George's Stadium is underway. Parking is free at every Baysox home game and tickets are available at www.baysox.com, or by calling the Baysox box office at (301) 464-4865.