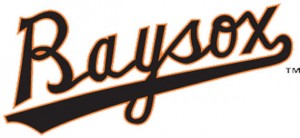 Baysox starter Mike Wright and the bullpen shut down Richmond (13-14) as the Baysox (12-14) ended a four game slide with a 7-2 win over the Flying Squirrels to avoid the sweep Thursday afternoon.
"The whole game I felt really good," Wright said. "The inning when they scored two runs, I just felt like I got behind a couple batters and even though I made some decent pitches, they hit them because they were anticipating because I was behind. After that I tried to work ahead of everybody. It felt good to get back in a groove and not walk anybody."
The Baysox were able to take advantage of poor control from Richmond starter Ryan Bradley early in the game, scoring their six runs on five hits, five walks and two errors in the first four innings.
"We took advantage of some balls in the dirt to advance some bases," said Manager Gary Kendall. "We seemed to put the ball in play a couple times to give us some runs. What was the real positive thing today was not so much that we scored seven runs, but we were able to hold them down. It's demoralizing when you throw up a couple runs and then go back out there and give back equal the amount or more. Today we did a better job of that."
The Baysox jumped out to an early lead against Richmond starter Ryan Bradley. Center fielder Xavier Avery drew a lead off walk and left fielder Kyle Hudson reached on a fielding error by the third baseman. Both runners scored on a double to left field by designated hitter Caleb Joseph that gave Bowie a 2-0 lead.
Richmond came right back to tie the game 2-2 in the top of the second inning with a two-out rally against Wright. Jarrett Parker hit a two out double to left field, moved to third base on a single by Brett Krill and both runners scored on a double to right field by Mark Wagner.
Bowie retook the lead in the bottom half of the inning. Shortstop Garabez Rosa hit a lead off single to center field and catcher Jose Gil followed with a walk. Avery moved both runners over with a sacrifice bunt and Rosa scored on a Hudson groundout to make the score 3-2.
The Baysox extended their lead in the bottom of the fourth with a two out rally. Hudson was hit by a pitch and third baseman Ty Kelly followed with a two out walk. Joseph brought Hudson home with a single to left field and first baseman Brandon Waring walked to load the bases. Tom Vessella then replaced Bradley on the mound and second baseman Buck Britton reached on a throwing error by the first baseman that allowed two runs to score and give the Baysox a 6-2 lead.
Bowie added another run in the seventh inning against Richmond reliever Fabio Castillo. Britton drew a lead off walk, moved to second base on a passed ball and to third on a single by Rosa. Britton scored on a wild pitch with two outs to give the Baysox a 7-2 lead.
Wright pitched six innings and allowed two runs on eight hits while striking out five in the win. Left-handed reliever Jason Gurka pitched three scoreless innings to finish out the game for the Baysox, earning his first save of the season.
Bradley took the loss for Richmond, pitching three and two-thirds innings and allowing six runs (three earned) on five hits while striking out two and walking five batters.
LHP Jake Pettit (2-0, 5.40) takes the mound for the Baysox tomorrow as the team begins a three game road series with the Akron Aeros. He will be opposed by LHP Matt Packer (0-3, 4.07).
Friday, the Baysox depart on a six game road trip to Akron and Richmond before returning home for seven games in eight days on Thursday, May 9.
Baysox Baseball – We'll Knock Your 'Sox Off. The Baysox 2013 season and 20th season of baseball at Prince George's Stadium is underway. Parking is free at every Baysox home game and tickets are available at www.baysox.com, or by calling the Baysox box office at (301) 464-4865.
Category: LIFE IN THE AREA, OPINION, Sports