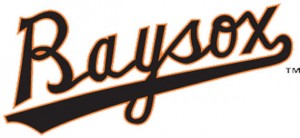 In a back and forth game on Saturday night, the Akron Aeros (14-15) scored a run in the ninth to beat the Bowie Baysox (13-15) 4-3.
In the ninth, Jose Ramirez led off with a single and was bunted over to second.  After Chun Chen was intentionally walked both runners stole a bag to move the winning run to third base.  Then with two outs, Carlos Moncrief hit the game winning single.
The Baysox struck first in the top of the first inning.  With two outs, Ty Kelly and Caleb Joseph drew back to back walks.  Henry Urrutia then knocked in Kelly with an RBI double to make the score 1-0.
In the bottom of the first, the Aeros answered back.  Tyler Holy reached on an error with one out and scored on an RBI double by Chen.  Then on a wild pitch Chen went to third and scored on a throwing error to make the score 2-1.
The Baysox tied up the game in the fourth inning.  They loaded up the bases with no one out and then Aaron Baker singled to knock in a run and tied up the game 2-2.
Roberto Perez gave the Aeros the lead in the sixth inning with a bases loaded single to make the score 3-2.
The Baysox tied up the game in the seventh inning.  With the bases loaded and one out, Buck Britton hit an RBI single that scored Waring and made the score 3-3.
Bryce Stowell pitched two scoreless innings and allowed just one hit to get his second win of the season.
Andy Loomis gave up the run in the ninth to get the loss.
The Baysox and Aeros will go back at it tomorrow afternoon at 2:05 p.m.  RHP Kevin Gausman (1-3, 3.77) will get the start against RHP Brett Brach (1-2, 3.12).
The Baysox will return home on Thursday May 9th for a four-game series against the Erie SeaWolves.
Baysox Baseball – We'll Knock Your 'Sox Off. The Baysox 2013 season and 20th season of baseball at Prince George's Stadium is underway. Parking is free at every Baysox home game and tickets are available at www.baysox.com, or by calling the Baysox box office at (301) 464-4865.