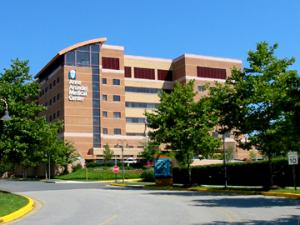 At the Annual Nursing Celebration Dinner held May 9 at Anne Arundel Medical Center (AAMC), the AAMC Foundation awarded 14 scholarships totaling $70,000 to deserving AAMC nurses to further their education and careers. Scholarship recipients were selected based upon several criteria, including academic achievement, letters of recommendation, community involvement and financial need. The dinner celebrates nurses and recognizes their commitment to the community.
In addition, the Stroke Center was awarded the "Extraordinary Advances in Patient and Family Centered Care" Award through the generosity of an endowment from Dick and Janet Davidson.  Davidson is former CEO of the American Hospital Association (AHA), serving from 1991 to 2007.
The scholarships are endowed through donations to the AAMC Foundation from individual and corporate supporters. They are designed to encourage and support AAMC employees currently enrolled in undergraduate or graduate nursing programs.
"These scholarships will make a difference not only in the lives of the recipients, but they will have a lasting impact on our patients whose lives are touched by a nurse each and every day," said Sherry Perkins, PhD, RN, chief nursing officer and chief operating officer, AAMC.
The Nursing Scholarship Endowment began in 1990 as a memorial to Marlene Reiter, a registered nurse at AAMC. Since then, and the AAMC Foundation has established an endowment fund, which has grown to $2 million and has distributed nearly $400,000 to 123 AAMC recipients by donations from community leaders and corporations.
Scholarship recipients are chosen by a committee that includes nurse managers, previous scholarship recipients, AAMC Foundation and other leaders within the organization.
This year's recipients are:
Sandra Aran

of Severn – Sheehy Nursing $5,000 Scholarship

Janet Ascione

of Annapolis– Community Fund Nursing $5,000 Scholarship Award

Amanda Brady

of Owings– Al & Mary Vittek $5,000 Nursing Advancement Fund

Stacey Cole

of Davidsonville– John W. Gosselin$5,000 Nursing Scholarship

Courtney Dupcak

of Arnold– Izzo & Patane $5,000 Nursing Scholarship

Silvia Faria

of Annapolis– Gus & Marjorie Berlitz $5,000 Charitable Trust for Nursing Advancement & Excellence

Erin Freitas

of Gambrills– AAMC Medical Staff $5,000 Nursing Scholarship

Dorothy Gallion

of Annapolis– Gordon & Jean Wells $5,000 Nursing Scholarship

Stephanie Harmon

of Arnold– Shelley Alion and Robert Welch $5,000 Nursing Scholarship

Alison Meador

of Dunkirk– George and Patricia Benson$5,000 Nursing Scholarship

Jennifer Smell

of Odenton– Lillian Edgerton Lewis $5,000 Scholarship

Kenya Smith

of Upper Marlboro– Balfe Clifford $5,000 Nursing Scholarship

Rachel Turner

of Annapolis– Shirley A. Wheeler $5,000 Nursing Scholarship

Charlotte Wallace

of Arnold– $5,000 Grow-A- Nurse Scholarship
In addition to the scholarship recipients, the nurses took the time at the dinner to honor their outstanding partners with awards:
Bruce Bolten,

MD, OB Hospitalist—

Outstanding Physician Partner
AAMC Auxiliary

—

Clinical Colleague Excellence Award