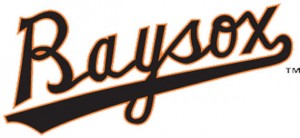 In his first home game, Bowie right fielder Henry Urrutia provided the Baysox (11-10) with some early fireworks with a home run and two RBI in a 3-1 win over the Harrisburg Senators (9-12) Friday night.
"Going back to the fact that he hasn't played – there is not anything about his game that shows any kind of rust," said Manager Gary Kendall. "He's aggressive with his bat, he throws the baseball, he ranges out there in the outfield and he moves on the base paths."
Baysox starting pitcher Mike Wright had one of his best starts of the season, throwing six innings and allowing one run on four hits while striking out six and walking two in the win.
"That was the best he has thrown all year," Kendall said. "He had a really good angle and threw some really good changeups to keep them off his fastball."
Urrutia gave the Baysox the early lead in his first home at-bat when he launched a solo home run to dead center field on the first pitch he saw against Harrisburg starter Brian Broderick.
The Baysox added another run in the bottom of the third inning. Catcher Brian Ward hit a lead off double to left field and moved to third base on a sacrifice bunt by center fielder Xavier Avery. Second baseman Buck Britton walked and then Ward scored after a missed catch error at second base on a stolen base attempt by Britton to give Bowie a 2-0 lead.
Harrisburg got on the board in the top of the sixth inning against Wright. Erik Komatsu hit a lead off double to right field and moved to third base on a groundout before scoring on a sacrifice fly by Justin Bloxom to make the score 2-1.
Bowie extended the lead in the bottom of the sixth inning. Third baseman Ty Kelly hit a lead off double to right field and moved to third base when left fielder Caleb Joseph singled to center field. Urrutia plated Kelly with a single that deflected off the first base bag to give the Baysox a 3-1 lead.
Righty Clay Schrader pitched two scoreless innings in relief of Wright, allowing two hits and striking out three batters. Zech Zinicola pitched the ninth inning for the Baysox and picked up his fourth save of the season with a perfect inning.
Broderick took the loss for Harrisburg, pitching six innings and allowing three runs (two earned) on seven hits while striking out three and walking two.
LHP Jake Pettit (1-0, 4.64) takes the mound for the Baysox tomorrow as the team plays the second in a three game home series with the Harrisburg Senators. He will be opposed by RHP Nathan Karns (1-1, 4.60).
The Baysox are home through Thursday, May 2 for a seven game home stand. Highlights include an appearance by former Washington Bullets Guard Michael Adams Saturday, April 27 at 6:35 p.m. and Bark in the Park Day Sunday, April 28 at 2:05 p.m.
Baysox Baseball – We'll Knock Your 'Sox Off. The Baysox 2013 season and 20th season of baseball at Prince George's Stadium is underway. Parking is free at every Baysox home game and tickets are available at www.baysox.com, or by calling the Baysox box office at (301) 464-4865.