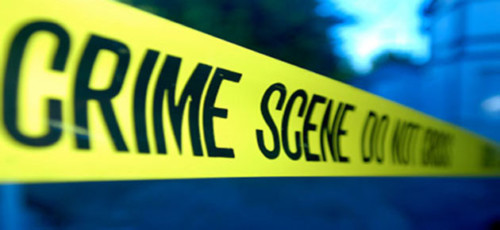 UPDATE 12:09pm April 21, 2013: Annapolis Police have just released the following statement:
Detectives from the Annapolis Police Department are investigating the deaths of two men found in a vehicle in the 1200 block of Forest Dr.

On the morning of April 21st Annapolis Police Dispatchers received a report of two unconscious men in a vehicle at the gas station.  When officers arrived they discovered the two men inside the vehicle were dead.  At this time their bodies have been sent to the Medical Examiner's Office to determine the cause of death.  The investigation into the deaths is ongoing, however preliminary investigations indicate a possible narcotics overdose.

Police are not releasing information on the vehicle or identity of the men until their identity can be confirmed and their next of kin notified.
UPDATE 12:04pm April 21, 2013: According to ABC2 News, authorities have confirmed to them that the deaths are not suspicious and appear to be the result of a drug overdose.
UPDATE 11:43am April 21, 2013: We were able to connect with Detective Amy Miguez from the Annapolis Police Department who was unable to offer any specifics on the incident other than to say "we are currently investigating 2 unattended deaths at this time." When pressed for a manner of death or any circumstances surrounding, she reaffirmed that all they were releasing at this time was that they were investigating the deaths.
UPDATE: From an unconfirmed witness:
GM. I was getting gas on forest drive. 
The guys next to us were dead. We were there when the police arrived. They were black or Hispanic. The drivers head was on the steering wheel. The other guys head was all the way back. The attendant thought they were sleeping
This morning, shortly after 9:30am, a large Annapolis City police presence at the 24-7 Mart located on Forest Drive at the intersection with Tyler Avenue near the Robinwood neighborhood was observed by Eye On Annapolis. Other reports indicate police had been there since early morning.
The entire property was cordoned off and police had surrounded a black 2-door car that appeared to be parked at the pumps closest to Typer Avenue.
We reached out to police, but have yet to receive a call back; however, one of our twitter followers reports that they witnessed a body being removed from the vehicle.
@eyeonannapolis just saw the dead body pulled.

— E i l e e n (@Leenbeans) April 21, 2013
We will update this story as information becomes available.
Category: Breaking News, Crime News, NEWS