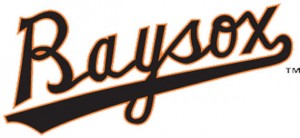 Harrisburg (10-12) broke a scoreless tie with the Baysox (11-11) in the 13th inning Saturday night when they were able to walk in a run to win 4-3.
The Baysox tied the game 3-3 in the seventh inning, but were never able to score again, struggling with runners on base. The team hit just 2-for-14 with runners in scoring position and left 12 runners on base, including leaving the bases loaded in the 10th inning.
"I was really happy about getting back in the ball game because [Nathan] Karns was throwing a good ball game and we weren't hitting well," said Manager Gary Kendall. "Then we started swinging the bats a little better and we evened it up. I'm just a little disappointed because we had a lot of runners in scoring position – you get a hit, get the ball in play but that didn't work for us tonight."
The Baysox scored first in the bottom of the second inning against Harrisburg starter Nathan Karns. Catcher Caleb Joseph reached second base after a throwing error by the third baseman to lead off the inning. Joseph moved to third base after a groundout by right fielder Henry Urrutia and scored on an infield single by second baseman Zelous Wheeler to make the score 1-0.
Harrisburg came back to take the lead in the top of the third inning against Baysox starter Jake Pettit. Josh Johnson got the scoring started with a lead off home run to left field. With two outs, Wilson Ramos doubled to right field and scored when Jerad Head reached on a throwing error by shortstop Garabez Rosa to give the Senators a 2-1 lead.
Bowie tied the game 2-2 in the bottom of the sixth inning. Joseph hit a one out double to right field and scored when designated hitter Luis Martinez doubled to right field.
The Senators came right back to take the lead in the top of the seventh inning. Destin Hood drew a lead off walk and moved to second base on a sacrifice bunt by Sean Nicol. With two outs, Johnson brought Hood home with a double to right field to made the score 3-2.
The Baysox again tied the game 3-3 in the bottom of the seventh inning against Harrisburg reliever Matt Synenberg. First baseman Aaron Baker hit a lead off triple to right field and Ian Krol then replaced Swynenberg on the mound before Baker scored on a sacrifice fly by left fielder Buck Britton.
Harrisburg broke the tie in the top of the 13th inning against left-handed reliever Chris Petrini. With two outs, Hood singled to right field and the next three batters walked, allowing Hood to score and give the Senators a 4-3 lead.
Pettit pitched six and two-thirds innings and allowed three runs (two earned) on six hits while striking out five and walking one in the no decision. Lefty Jason Gurka pitched one and one-third scoreless innings in relief of Pettit, striking out two batters and walking one. Reliever Tom Boleska pitched a scoreless ninth inning for the Baysox, allowing one hit and walking two. Left-handed reliever Andy Loomis pitched three scoreless innings for the Baysox, striking out four batters and walking two. Petrini took the loss, pitching one inning and allowing one run on one hit and three walks.
Michael Broadway earned the win for Harrisburg, pitching three scoreless innings and allowing three hits while striking out two and walking two. Harrisburg's Aaron Barrett picked up the save, pitching a perfect 13th inning.
RHP Kevin Gausman (1-2, 4.71) takes the mound for the Baysox tomorrow as the team plays the final game in a three game home series with the Harrisburg Senators. He will be opposed by RHP Blake Treinen (1-3, 6.23).
The Baysox are home through Thursday, May 2 for a seven game home stand. Highlights include Bark in the Park Day Sunday, April 28 at 2:05 p.m. and Tightwad Tuesday beginning at 7:05 p.m. April 30.
Baysox Baseball – We'll Knock Your 'Sox Off. The Baysox 2013 season and 20th season of baseball at Prince George's Stadium is underway. Parking is free at every Baysox home game and tickets are available at www.baysox.com, or by calling the Baysox box office at (301) 464-4865.