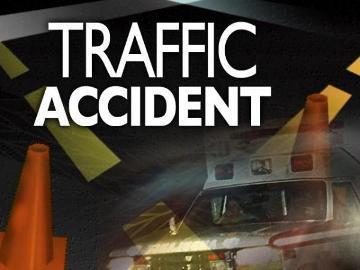 UPDATE 5:47pm: From the Anne Arundel County Police Department:
On Saturday, April 27, 2013 at approximately 0900 hours, members of the Anne Arundel County Police Department and Fire Department responded to the area of Route 100 and Catherine Avenue for a reported motor vehicle accident.

Upon arrival, responding officers determined that a marked Bladensburg police vehicle was involved in the collision.  Preliminary investigation revealed that the Bladensburg police vehicle was traveling east bound on Route 100 when it suddenly crossed the median and struck a vehicle traveling west bound.  The driver of the police vehicle had significant injuries at the scene. He was transported to Baltimore Washington Medical Center where he was later pronounced deceased by medical personnel. The operator of the other vehicle was treated and released at the scene.

Preliminary investigation revealed the driver of the police vehicle may have suffered a medical emergency prior to the accident. Investigators will work with the Medical Examiner's office to determine the cause of death and resulting accident. The operator of the Police Vehicle has been identified as Officer Brian Johnson.  He is a nine (9) year veteran of the Bladensburg Police Department. He was off duty at the time of the accident.
UPDATE 5:10pm: The officer involved in the crash this morning has died. According to the Bladensburg Fire Department Facebook page, Officer Brian Johnson was also a volunteer firefighter with the department.
It is with our deepest sorrow that we announce the passing of Fireman and Bladensburg Detective Brian Johnson. Brian, you were one hell of a fireman And a great cop. We are never going to forget all the good times, funny stories, and things that you have taught us. Rest Easy Brother, please watch over us and keep us safe.
UPDATE 10:19am:  Westbound Route 100 is closed between Catherine Avenue and Magothy Bridge Road for accident investigation. The road is expected to be closed for several hours while police officers investigate.
Anne Arundel County emergency crews are on the scene of a serious crash involving a Bladensburg Maryland police car at Route 100 Westbound and Catherine Avenue in Pasadena.
The call came in just before 9:30am. Initially crews called for a helicopter from Maryland State Police to fly the accident victim to shock trauma, but his conditioned worsened and he was instead transported to Baltimore Washington Medical Center for immediate treatment.
According to a witness at the scene, the police car was traveling eastbound on Route 100 and appears to have lost control, crossing the median into the westbound lanes where the car struck a guardrail.
Route 100 westbound is currently closed at this time (945am).  We will update the story as more information becomes available.
Category: Breaking News, Local News, NEWS