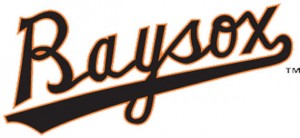 The Baysox (4-4) led the Akron Aeros (2-5) from start to finish in a 5-1 win Thursday evening in the home opener in Bowie for the team's third straight win.
Baysox starter Kevin Gausman cruised in his second start of the season, pitching six innings and allowing one run on two hits while striking out five in the win.
"In Harrisburg, I think I was around the zone too much and tonight I just tried to focus on hitting my spots early in the count and then expanding the zone later," Gausman said. "It's always good to come home and get the first W in the ballpark. This is the first time I have pitched here so it was kind of cool for me."
The Baysox used a two-out rally to score first in the bottom of the third inning against Akron starter T.J. House. Center fielder Xavier Avery recorded the Baysox first hit of the game with a single to center field and left fielder Kyle Hudson followed with a single to left field. Second baseman Ty Kelly brought both runners home with a triple to right field to give the Baysox a 2-0 lead.
"With Avery and Hudson at the top – they are capable of getting on and they hit the ball to all fields," said Manager Gary Kendall. "Having them up there is very exciting and it puts guys in scoring position for Kelly and Ford and Wheeler. It's a pretty good one-two tandem up there with the speed that they have and it's a pretty good lineup throughout."
Bowie added another run in the bottom of the fourth when first baseman Aaron Baker hit a solo home run into center field to put the Baysox up 3-0.
Akron got one run back in the top of the fifth inning against Gausman. Giovanny Urshela hit a lead off double to left field and scored after a wild pitch and throwing error by catcher Brian Ward to make the score 3-1.
The Baysox extended the lead again in the bottom of the fifth inning. Avery drew a one-out walk and proceeded to steal second base before scoring on a Hudson single to right field to give the Baysox a 4-1 lead.
Bowie continued a streak of four straight innings with a run with one more in the sixth. Designated hitter Lew Ford hit a lead off single to left field and third baseman Zelous Wheeler followed with a single to left field that moved Ford to third base. Right fielder Buck Britton plated Ford with a groundout that made the score 5-1.
Left-handed reliever Chris Petrini pitched two scoreless innings in relief of Gausman, not allowing a hit while striking out two batters and walking one. Reliever David Walters pitched the ninth inning to finish out the game for the Baysox.
House took the loss for Akron, pitching five and two-thirds innings and allowing five runs on seven hits while striking out four and walking two.
RHP Eddie Gamboa (0-0, 0.00) takes the mound for the Baysox tomorrow as the team plays the second in a four game series with the Akron Aeros beginning at 7:05 p.m. He will be opposed by LHP Matt Packer (0-1, 7.71).
The Baysox are home through Wednesday, April 17 for a seven game homestand to start the season. Pi(e) Night is Friday, April 12 in the game starting at 7:05 p.m., Kids Fun Day is Sunday, April 14 in a game starting at 2:05 p.m. and Mutt Monday is Monday, April 15 at 7:05 p.m.
Baysox Baseball – We'll Knock Your 'Sox Off. The Baysox 2013 season and 20th season of baseball at Prince George's Stadium is underway. Parking is free at every Baysox home game and tickets are available at www.baysox.com, or by calling the Baysox box office at (301) 464-4865.
Category: LIFE IN THE AREA, OPINION, Sports