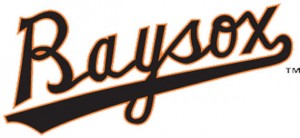 The Baysox (5-5) used a four-run seventh inning to come from behind and beat the Akron Aeros (3-6) 7-6 Friday evening.
Throwing a knuckleball, Baysox starter Eddie Gamboa pitched five and two-thirds innings and allowed four runs on five hits while striking out four and walking two in the no decision. All four of Gamboa's runs came in the sixth inning as he had been pitching a shutout before that.
"[My knuckleball] felt better the first couple innings," Gamboa said. "I had a few close calls that were called balls so I just had to be patient with it. The pitch was moving well, I just need to command the zone."
For the second night in a row and seventh time this season, the Baysox were victimized by a big inning, where four or more runs were scored, when Akron scored five runs in the sixth inning. Unlike Friday however, this time the Baysox were able to battle back and retake the lead.
"We believe in ourselves and there are guys in there picking each other up," said Manager Gary Kendall. "Early on we could have added some runs, but we didn't and then we fell behind. We have come from behind a couple games to win – not that you want to have to do that – but the guys believe that they can do that. We have a pretty potent lineup throughout that can put the ball in play."
The Baysox got on the board first in the bottom of the second inning against Akron starter Paolo Espino. Third baseman Buck Britton drew a lead off walk and moved to second base on an Aaron Baker groundout before scoring on a single to right field by Garabez Rosa that put the Baysox up 1-0.
Bowie added another run when center fielder Xavier Avery hit a solo home run to right-center field to lead off the bottom of the fifth inning and give the Baysox a 2-0 lead.
Akron used a big two out rally to take the lead against Baysox starter Eddie Gamboa in the top of the sixth inning. Matt Lawson hit a two-out single to left field and Chun Chen followed with a walk. After a double steal, both runners scored on a single to center field by Jesus Aguilar. Carlos Moncrief followed with a single to center field before reliever David Walters replaced Gamboa on the mound. Walters then surrendered a three run home run to Quincy Latimore to give the Aeros a 5-2 lead.
The Baysox cut into the lead in the bottom of the sixth inning. Baker hit a lead off single to center field but was thrown out at second base when Rosa reached on a force out. Catcher Brian Ward singled to center field to move Rosa to second base where he scored on a two-out single by Avery to make the score 5-3.
Bowie used their own big inning to retake the lead in the bottom of the seventh inning against reliever Edward Paredes. Second baseman Ty Kelly drew a lead off walk and designated hitter Caleb Joseph followed with a two-run home run to left field. Britton then singled to right field and moved to third base when Baker singled to right field. Reliever Shawn Armstrong then replaced Paredes on the mound and surrendered an RBI single to Rosa that moved Baker to second base. Both runners advanced on a sacrifice bunt by Ward and Baker scored when right fielder John Ruettiger reached on a fielding error to give the Baysox a 7-5 lead.
Akron threatened in the top of the ninth against Baysox reliever Zech Zinicola. Latimore hit a lead off double to left field and moved to third base on a groundout by Urshela. Ronny Rodriguez plated Latimore with a single to right field before Zinicola induced a double play to get out of the inning with the score 7-6.
Walters pitched one and one-third innings and allowed one run on one hit while striking out one and walking one in his first win of the season. Making his debut with the Orioles organization, left-handed reliever Chris Jones pitched a perfect eighth inning for the Baysox. Zinicola picked up his second save of the season, pitching one inning and allowing one run on two hits.
Paredes took the loss for Akron, pitching two-thirds of an inning and allowing four runs on four hits while striking out one and walking one.
RHP Mike Wright (0-0, 8.22) takes the mound for the Baysox tomorrow as the team completes a four game series with the Akron Aeros beginning at 2:05 p.m. He will be opposed by RHP Toru Murata (1-1, 1.29).
The Baysox are home through Wednesday, April 17 for a seven game homestand to start the season. Kids Fun Day is Sunday, April 14 in a game starting at 2:05 p.m., Mutt Monday is Monday, April 15 at 7:05 p.m. and Tailgate Tuesday is April 16 beginning at 7:05 p.m.
Baysox Baseball – We'll Knock Your 'Sox Off. The Baysox 2013 season and 20th season of baseball at Prince George's Stadium is underway. Parking is free at every Baysox home game and tickets are available at www.baysox.com, or by calling the Baysox box office at (301) 464-4865.