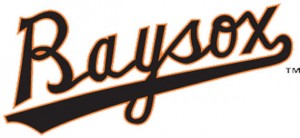 The Baysox (11-12) managed just three hits and were shutout for the first time this season in a 1-0 loss to the Harrisburg Senators (11-12) Sunday afternoon. Harrisburg took two games in the three game series.
The game was a pitcher's duel as both starting pitchers recorded quality starts. Harrisburg starter Blake Treinen threw six and two-thirds shutout innings and allowed three hits while striking out six and walking three in the win.
Baysox starter Kevin Gausman pitched seven and two-thirds innings and allowed just one run on five hits while striking out eight in the loss.
"Yesterday we played 13 innings so I knew I was going to have to go deeper in the game than I normally would, but that didn't change my approach at all – I still tried to throw strikes," Gausman said. "Really what I've been doing all season is getting ahead. Today I tried to focus on expanding the zone with two strikes."
Harrisburg scored the only run of the game in the top of the second inning against Gausman. Justin Bloxom hit a lead off double to left field, moved to third base on a groundout and scored on a sacrifice fly by Sandy Leon to make the score 1-0.
Harrisburg closer Aaron Barrett pitched the ninth inning for Harrisburg to record his second save in as many games.
RHP Devin Jones (0-1, 5.17) takes the mound for the Baysox tomorrow as the team begins a four game home series with the Richmond Flying Squirrels. He will be opposed by LHP Jack Snodgrass (3-0, 2.01).
The Baysox are home through Thursday, May 2 for a seven game home stand. Highlights include Mutt Monday at 7:05 p.m. April 29 and Tightwad Tuesday beginning at 7:05 p.m. April 30.
Baysox Baseball – We'll Knock Your 'Sox Off. The Baysox 2013 season and 20th season of baseball at Prince George's Stadium is underway. Parking is free at every Baysox home game and tickets are available at www.baysox.com, or by calling the Baysox box office at (301) 464-4865.
Category: LIFE IN THE AREA, OPINION, Sports