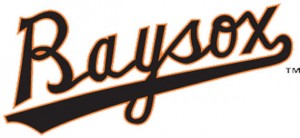 The Baysox fell to Akron 10-7 in 10 innings Friday evening in a back-and-forth game to end the team's three game winning streak.
The Baysox scored all seven of their runs in two big innings in the middle of the game, but struggled with big innings of their own as Akron recorded innings with five and three runs and also scored their final eight runs with two outs.
Making his Double-A debut, Baysox starter Devin Jones pitched six and one-third innings and allowed three runs (two earned) on four hits while striking out five and walking two in a no decision. Both of his earned runs came on a home run in the second inning.
"I made a lot of good in-game adjustments," Jones said. "I started out babying the secondary stuff and overthrowing the fastball. After that I settled in and started locating the fastball really well and then by the fourth inning I started letting it go and it worked out a lot better for me."
Akron took the early lead against Jones when Giovanny Urshela hit a one out single and Ronny Rodriguez followed with a home run to left field that put the Aeros up 2-0.
The Baysox finally got to Akron starter Matt Packer in the bottom of the sixth inning. Center fielder Kyle Hudson reached on a bunt single and then second baseman Ty Kelly reached on a force out that eliminated Hudson at second before scoring on a double to left field by designated hitter Lew Ford. With two outs, third baseman Zelous Wheeler drew a walk and right fielder Buck Britton brought both runners home with a double to right field to give Bowie the 3-2 lead.
Akron took the lead right back in the bottom half of the inning. Urshela reached on a fielding error by shortstop Garabez Rosa and moved to second base on a sacrifice bunt by Rodriguez. Reliever Sean Gleason replaced Jones on the mound and issued a walk to Alex Lavisky as the two-out rally began. Tyler Holt singled to right field to plate Urshela and move Delvi Cid to third base where he scored on a Jose Ramirez single. After a double steal, Chun Chen came through with a two-RBI double to center field and Jesus Aguilar followed with an RBI single that made the score 7-3.
The Baysox came storming back to tie the game in the bottom of the seventh inning against Akron reliever Kyle Landis. Rosa hit a lead off single to left field and Hudson drew a one out walk. Kelly then reached on a fielding error by the first baseman that plated Rosa and advanced Hudson to third base. Ford was hit by a pitch to load the bases and Eric Berger then replaced Landis on the mound. First baseman Caleb Joseph plated Hudson with a sacrifice fly for the second out and Wheeler followed with a double to plate two more runs and tie the game 7-7.
Akron retook the lead in the top of the 10th against reliever Tom Boleska. Lavisky hit a one out single to center field and moved to second base on a two out single to left field by Tyler Holt. Boleska then walked back-to-back batters to bring in a run and Aguilar followed with a single that plated two more runs to give Akron the 10-7 lead.
Gleason pitched two-thirds of an inning, allowing four runs on four hits while walking one batter. Left-handed reliever Jason Gurka pitched two scoreless innings in relief, allowing one hit and striking out three batters while also walking three. Boleska took the loss for Bowie, allowing three runs on three hits while walking two and striking out one in the 10th inning.
Jose Flores got the win for Akron, pitching two scoreless innings and allowing three hits while striking out two batters.
RHP Eddie Gamboa (0-0, 0.00) takes the mound for the Baysox tomorrow as the team plays the third in a four game series with the Akron Aeros beginning at 6:35 p.m. He will be opposed by RHP Paolo Espino (0-0, 4.50).
The Baysox are home through Wednesday, April 17 for a seven game homestand to start the season. Kids Fun Day is Sunday, April 14 in a game starting at 2:05 p.m., Mutt Monday is Monday, April 15 at 7:05 p.m. and Tailgate Tuesday is April 16 beginning at 7:05 p.m.
Baysox Baseball – We'll Knock Your 'Sox Off. The Baysox 2013 season and 20th season of baseball at Prince George's Stadium is underway. Parking is free at every Baysox home game and tickets are available at www.baysox.com, or by calling the Baysox box office at (301) 464-4865.