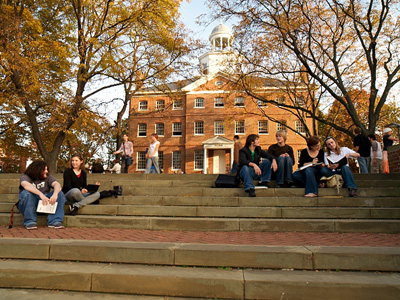 Recommended by Arthur Frommer as "among the finest summer vacations that you might ever enjoy," Summer Classics at St. John's College offers a distinctive experience. Participants gather in small, week-long seminars to read and discuss classic works of literature, science, history, and philosophy. The seminars are limited to 16 participants each and are led by St. John's tutors. Summer Classics attracts people from across the country, varying widely in age and academic and professional backgrounds.
A Summer Classics seminar is not a lecture, nor is it a book club. Seminars are lively, in-depth conversations on the reading at hand. Discussions begin with an opening question presented by a tutor, but can take on a myriad of dimensions. Everyone contributes to the conversation, bringing ideas to the table whether they have expertise in the topic or not.
Tuition for Summer Classics is $1,250 per individual seminar, which includes registration, books and other course materials, lunches, and special events. A $250 non-refundable deposit for each seminar is required to hold space and in order for participants to receive seminar materials. Participants may register for both a morning seminar and an afternoon seminar. Those registering for two seminars will receive a $100 discount. St. John's offers tuition assistance to a limited number of licensed teachers (K-12) and college professors.
For registration and more information, contact Kathy Dulisse at 410-626-2530 or at [email protected], or visit www.stjohnscollege.edu/outreach/SF/SC/classics.shtml.